To make Thanksgiving a little bit more Festive and Fun,
this year we have decided to wear Thanksgiving Costumes.
The kids mentioned it, and I thought it was a great idea.  
So, we will come as either a Pilgrim or an Indian. 
I love Norman Rockwell and thought I would share this little pic….
…haha, that guy looks like a meaner!!

And all of our costumes have to be made with what we have around the house.  Which means, NO store bought or extravagant costumes.  Most things will be made out of pillow cases, older clothes we are no longer using, and maybe a few pieces from our costume box.  Last year, in my daughters Kindergarten class, I made pillow case Indian Costumes  for many of the children.  The first thing I did was to purchase some old sheets and pillow cases from surrounding Thrift Stores.  I pre-washed the fabric to remove any chemicals or yucky germs, and then tea stained the fabric.  This darkened the fabric a bit so it looked more like traditional buckskin.  If you don't know how to tea stain, just click on the word and it will take you a tutorial on the process.  Then I used the sheets and made additional pillow cases out of them, just by laying down a pillow case on top for my pattern.  Sewed up the sides and I had more pillowcases.  It seems that a twin made four pillowcases and a queen made 5-6 pillowcases. 
(JUST IN CASE YOU ARE DOING A HUGE PROJECT)
I started with the pillow case laying flat, the closed end as the top, and the open end as the bottom.
Cut a small 'V' in the middle top of the case (this is where your child's head will enter) and then 1/2 circles at the top sides, about two inches down, for your child's arms.  Then I cut the ends of the pillow case into tiny strips to give it the look of Indian clothing.  I used an extra strip of fabric and tied it around the waist, and then the children decorated their pillowcases with Indian Petroglyphs ( Cave drawings) and zig zags.  They were so adorable. 
The children also made head dresses with a 2″ wide x 12″ long brown construction paper and feathers. 
NO>>>>>>>>I DON"T HAVE A PICTURE, Darn-it…
BUT..I did find a tutorial ***HERE***on one that is similar, In case you really wanted to make one.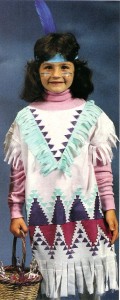 And as for our Pilgrim…we have all girls, so I have chosen a girl pilgrim outfit as an example.  But my plan here is to use a black shirt and skirt and then I am going to use a white pillow case.  Part of it will be for the apron and the other portion I will divide between the collar, sleeve cuffs, and bonnet.  I am sure the bonnet will look more like a handkerchief tied around her head.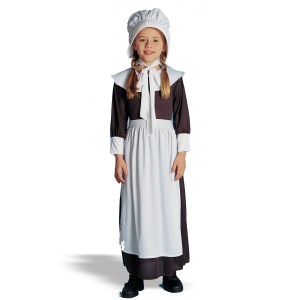 Anyways……….have a super big HAPPY THANKSGIVING from me to YOU!!!
ps….I would love to see your costumes, if you decide to do them!