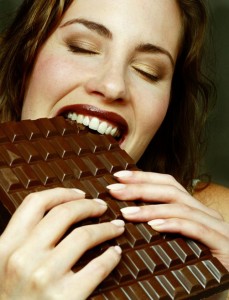 Well this is an obvious choice when it comes to Mother's Day.
Almost every mom loves chocolate.
This is such a funny picture to me because, I can just imagine a mother who has had "one of those days" and just goes at her chocolate bar, as if it were to relieve all her woes.  Woman love chocolate, in fact I am sure it runs through our veins!!  My Absolute favorite is the Red Lindor Chocolate balls.  The center chocolate is so delicious.  However, they are absolutely sinful.  I have to eat them slowly and sparingly, other wise, I feel so guilty because they are so delicious!
In fact, I almost purposefully ask my little family "NOT" to get them for me,
because it's just too much of a temptation for me.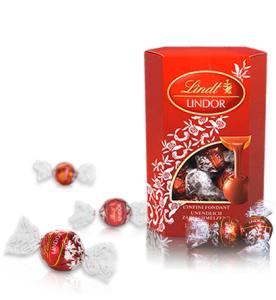 Almost all florist companies, online and local, can send chocolate.  So if you want to send a little chocolate with your mother's flowers, that is an excellent  idea she is sure to love.
Maybe sprinkle chocolate kisses all over her desk, bed, or car (if she has to go to leave somewhere), with a little note that reads, "mom, I have cherished every one of your kisses throughout my life, THANK YOU"
Or a note with any chocolate that reads, "your the sweetest!"