All Tool boxes Were Not Created Equal
When your garage is your haven and your tools are your treasures, only the best in tool storage will do. Doing a bit of homework and shopping around can pay off big time. There's nothing worse than being the tool king with a crappy tool box. Choosing from quality products like those that are offered by Elite Toolboxes is a win, win situation when purchasing tools. From top chests to roller cabinets and combination sets, choose the right toolbox the first time around instead of trying to save a dollar or two and regretting it later.
Size Matters
Take a look at your tools and the space you have to work with in your garage. You want to have a toolbox that is ample enough to take care of all of your tools, leaving you room to grow when you are sure to supplement your existing supply. Bear in mind that you can always make more additions down the line. If you can't go with the larger model the first go around, you can always invest in a top chest, side box, or hutch. Before you actually make your purchase, compare products at various sites, look at the prices, and find out what kind of warranties are offered. Check out testimonials and reviews as well. The old expression, "You get what you pay for," holds true. Be willing to pay for quality and you will be rewarded.
Think Portable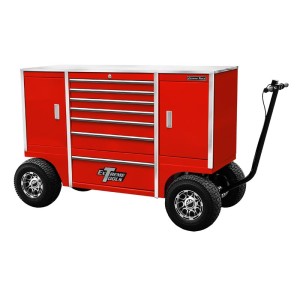 Don't forget the advantages of portable tool boxes when you are on the go. If you know that you're going to be taking your toolbox to a job or helping someone else with an important project, you want to rest assured that you can take your tools with you while keeping them secure. Choose from a variety of models to find the toolbox that is most practical, easily transported and capable of carrying exactly what you need to the job. If you are going to have your toolbox at a work site, remember to have security measures in place as well to ensure no one walks away with your tools. You can always have them with you when you need them.
And in speaking about "portable," I'm pretty sure I found my next tool box. It's called the "Pit Box!" It's a rolling tool box, but unlike any other rolling tool boxes. It's almost off-road rated, sporting chrome rims and disc brakes!
Me likey!
The Wonder of Combination Sets
Combination toolboxes are a marvel, providing you with a versatility beyond compare. Scope out all of the possibilities and pick the model that works really well for your garage. You can always make new additions down the line, but make sure you choose something satisfying to begin with, saving you time and trouble later on. Your toolbox is a vital addition.
If you're a serious tool guy, it's only appropriate to assume that you're a serious "tool box guy" as well.