Okay, so I know it is not a usual tradition, but it was a good idea. 
This year we dressed up to make our Thanksgiving a little bit more festive.
It was really fun.  And by choice, family members could come as a Pilgrim or an Indian.  In our family, we only had ONE who wanted to be a Pilgrim, but we made the costumes out of Pillowcases and one old shirt.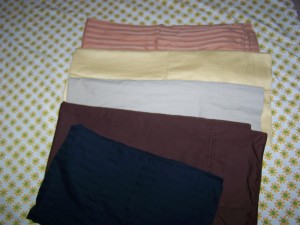 So here are the pillowcases I purchased from Goodwill.  The great part…they were already neutral colors,
so no color-changing had to take place.  ***MORE HERE***
I also purchased this lovely floral "flat full-sheet."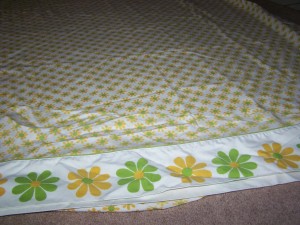 I know it's not the most gorgeous thing, but I loved the vintage feel of this sheet. 
First, I washed it…**MANDATORY FOR SURE**
I cut off this wide floral band, and I cut the sheet up the center long-ways.  Then I sewed a simple hem around the cut edges to give it a finished look.  Believe it or not, this Full sized sheet, served as two long banquet table covers.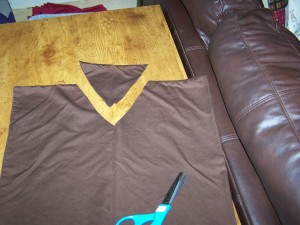 For my Indian dress, I laid the pillow case flat and cut a "V" out of the top center.  This will serve as  a neck hole.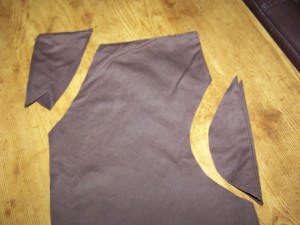 Here you can see, where I cut the arm holes.  I just folded the case in half and both arm holes at once.  Then I cut the seam from the remaining few inches of the arm hole to the shoulder.  Then I cut the shoulder area into strips, and the bottom of the pillowcase dress into little strips to give it the fringe look.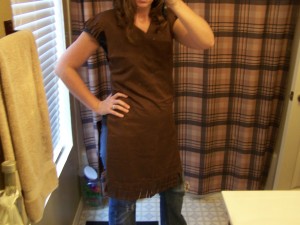 OH, HOW I WISH I HAD THE BODY OF A MODEL, but….this is what the dress looked like on. 
If you look closely, you will notice the cut fringe at the bottom and at the arm holes.  If you look even closer, I slit the sides of my dress so that my lady hips could fit it.  I would hate to be the girl at Thanksgiving that sits and SLITS her dress up the back.  So the slits were the safe bet!!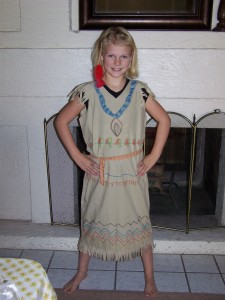 This is the same size of pillowcase…I cut it the same way and then Miss K used fabric markers to authenticate it.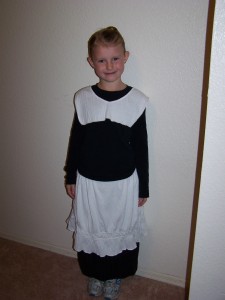 Miss S was our Pilgrim girl.  I made her skirt out of a black pillowcase.  Then I took an old white shirt and made a white apron-type skirt, and the white pilgrim collar came from the old neck line of the shirt.  She wore her black shirt and the I used the sleeve from the shirt as her bonnet.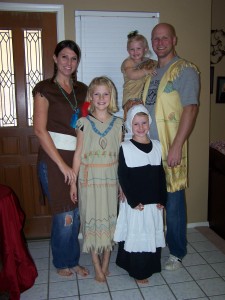 Here we are as a family….
Funny Faces!!
Aren't Pillowcases Amazing!!!