**IS THERE ANYTHING FOR FREE?? Here is a Good Idea..Let's Make a Trade!!? This post is dedicated to TWO specific sites that are FREE to join AND….you are free to donate as well as receive!!? How great is that???!!!!!
So the first site is called "Free Cycle"? This is a place that is location specific and you may place almost anything on it that you would like to offer for Free.? You may also accept other people's items for free.? There is a registration..but no fee, and a few simple and logical rules to follow as well, but it's fantastic if you have stuff you want to get rid of or are looking for something as well!!? Here is their info…The Freecycle Network? is made up of 4,854 groups with 7,587,333 members around the world. It's a grassroots and entirely nonprofit movement of people who are giving (and getting) stuff for free in their own towns. It's all about reuse and keeping good stuff out of landfills. Each local group is moderated by a local volunteer (them's good people). Membership is free. To sign up, find your community by entering it into the search box above or by clicking on 'Browse Groups' above the search box. Have fun!
The next site I wanted to talk about is a fairly new site called "Gails 'List a Wish' Foundation" that is primarily for parents. You have to register here as well, but it too, is FREE.? They also have simple and logical rules to abide by, and that keeps everyone happy!! ?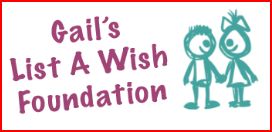 Here is their info…"Believing In The Love For Family And The Power Of Helping Others" A new non-profit organization that brings parents together to offer or trade "family friendly" items.? Children's clothes, toys, diapers, formula, coupons, furniture and even groceries are examples of things being traded right now.? Our mission is to unite parents, so together we can make a difference in the quality of life and overall well being of children and their families.