Advertise
Thank you for your visit to GoodIdeasandTips.com. It's great to have you here and we look forward to your return visits. GoodIdeasandTips is a growing site. Our primary interest is to bring good ideas and crafty tips to our audience and at the same time, offer business owners a unique and targeted customer base to offer their products and services to.
Here's a bit about our visitors:
Our Alexa rating is currently around 69,614  in the U.S. and 389,911 Globally.
We currently receive around 25,000 unique visitors monthly with over 65,000 page views per month.
In addition to our social presence on Facebook, Twitter, Pinterest and Google+, we send out a weekly newsletter to around 1,100 subscribers.
As of now, our advertising options are below, but we encourage creativity. If you see a spot on this site that you would like to advertise on, submit your idea and we'll consider it.
Our advertising pricing is as follows:
Sponsored Reviews – $60/post
Square Button (125×125) – $25/month
Leaderboard (728×90) – $80/month
Large Rectangle (336×280) – $60/month
Medium Rectangle (300×250) – $45/month
NOTE: The pricing above is for a 3 month commitment, paid for up front. If you'd like to go month to month, there is a 15% price increase on the monthly rate.
Here's a layout photo of where the ads will show. These ads will show on every page throughout the entire site:
(Click on Image to Enlarge)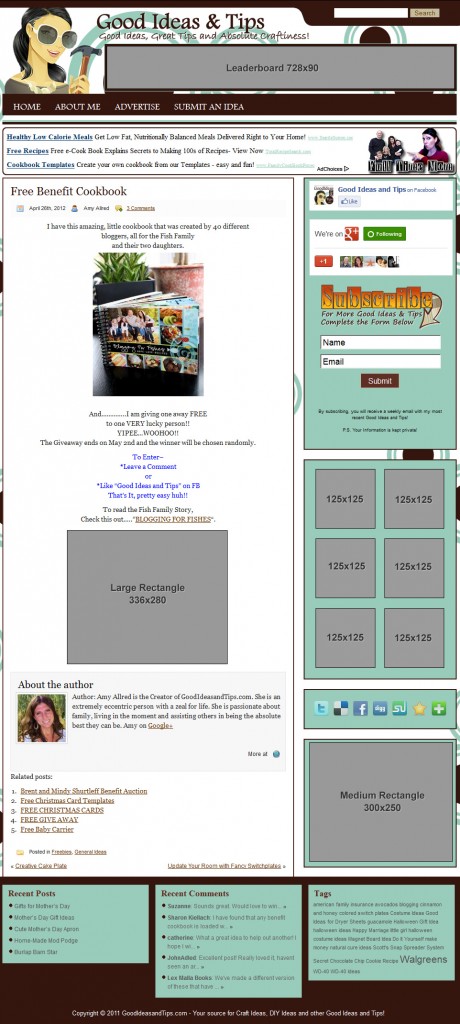 If you would like to place an ad on our site, fill out the form below with as much detail as possible about your ad or service, a link to your ad and any more information you want us to know. Thanks!
[onw_simple_contact_form subject="Advertising Inquiry"]