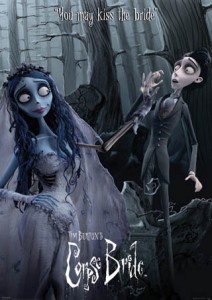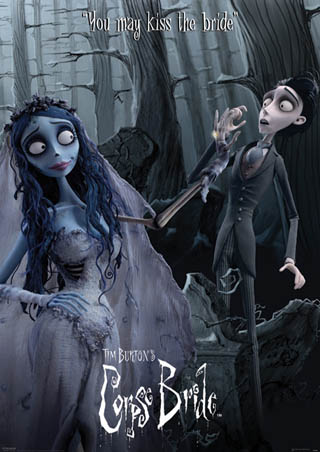 Sometimes it's a good idea to make your halloween costumes yourself, because they will be better than anything you could buy.  This may not always be the case, but there are definitely occasions where this statement rings true.  Tim Burton's "Corpse Bride" is definitely one of these occasions.  Miss K, my oldest, wanted to be the Corpse Bride so bad last year, and I had looked on line and seen a few costumes, but none that were really very appropriate for her age, or even cost effective for one nights wear.  So I came up with a good idea to look for an older wedding dress at a Thrift Store and re-vamp it into "The Corpse Bride!"  I found a great dress that had been worn in the early 80's, which had already started to yellow and had a tremendous amount of lace.  I turned the dress inside out, sewed up the waist to make it fit, I cut the bottom of the dress into a torn-like appearance, and then took the dress, cut a section out of first layer of material near the ribs and drew in 3 ribs and sewed on a friend worm (just like in the actual movie!)  I also, dirtied up the dress a bit by lightly spraying a soft mist of black spray paint onto it. 
Here is what my version ended up like…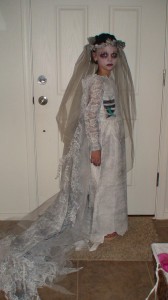 One more picture a little bit closer!  It's amazing what an old wedding dress can do!  If you want to see more detail, just click on the actual image!