Cereal Box Scarecrow Craft
THIS IS THE CUTEST CEREAL BOX SCARECROW….
I love love love it…and so inexpensive.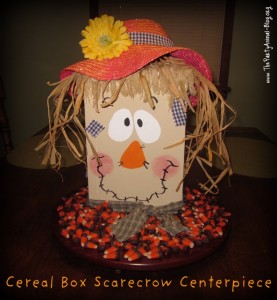 I found this adorable Cereal Box Scarecrow Centerpiece at "The Party Animal"
What you will need to Create a Cereal Box Scarecrow:
A Cereal Box of course – Now I used a Post Shredded Wheat Cereal Box, because I also Incorporated the Shredded Wheat into my design
Almond Spray Paint
Paint or Markers to make your Scarecrow Face
Rafia
Glue Gun
Old Scraps of Material
Straw Hat
Tape

**She goes step by step in her tutorial for this super cute scarecrow…
…so visit the "The Party Animal" to learn how!