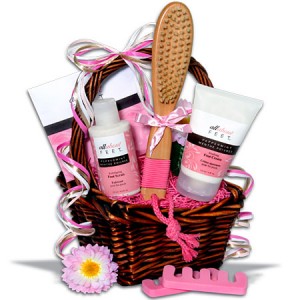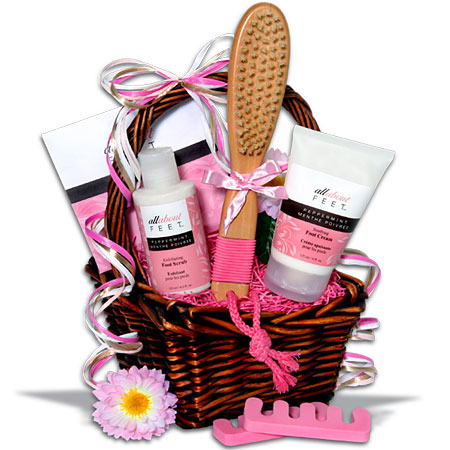 This is a unique idea that my sister came up with and I Love It!
You can buy these at Gourmet Gift Baskets.com for $49.99 or, you could put one together yourself, which is what we did.  We went to the store and bought things to take care of our mom's feet (I did this for my mother-in-law).  Things like; lotions, foot scrub, toe separators, some new nail polishes, a gift certificate for a pedicure (or a foot rub coupon given by the person who is giving the basket), new clippers and emery boards….You get the idea.
To ensure she understands why you just gave her a basket of foot care items, here are a few quotes that you could attach to the basket.
**"Mom, Thank You for guiding my FOOTSTEPS with love"
**"Mom, Thank You for walking in such a way, that following in your footsteps is an honor."
**"Mom, You have left footprints all over my heart"
**There is no velvet so soft as a mother's lap,
no rose as lovely as her smile,
no path so flowery, as that imprinted with her footsteps.