Mother's Day is just a week away!!  Are you ready???
Here is another great idea, from me!!
Get your mother a new purse (one she would like)
and fill it full of things that she uses and loves!
This can be anything, from clothing and accessories, to make-up and jewelry.
If I were to get a new purse (hint hint), I would want this one…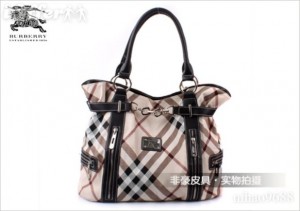 I am such a lover of the Burberry Nova Check pattern.
I don't know what it is about this bag, but I just want to kiss it, and maybe hug it too.
(maybe even through in a little lick…just because I like it so much)
It speaks to my soul, and I love it!!
(a few years ago, I had a generic version of it, and it lived a full life and died…frowny face)
Anyways, on to your mom, and how this benefits her sweet soul….
Get her a new purse/bag and fill it full of stuff for her.
Ideas of fillers:
*house slippers
*Make-up, Nail Polish
*Jewelry & Hair Accessories
*Gift Certificates for favorite places
*A New Scarf
*Her Favorite Movie on DVD
*Keys to a new Car…(what..it's a good idea)
and the list goes on and on….