I wanted to share an inexpensive way you can stretch your pennies a little further,
by updating what you already have.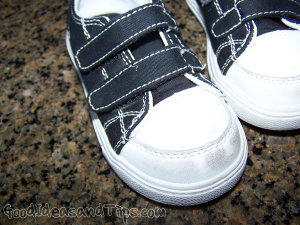 These are my daughter's shoes. She is three and completely girlie. My hubby and I bought them for her while we were on vacation and I thought they were the cutest things ever(coming from a huge fan of Converse.)
Well, she hated wearing them, and kept claiming they were "BOY" shoes.
She is probably right, but again, I thought they were adorable on her little feet.
I had a good idea, "let's BEDAZZLE them!"
I didn't want to make them too tacky, so I thought I would just add a little bit of sparkle to them.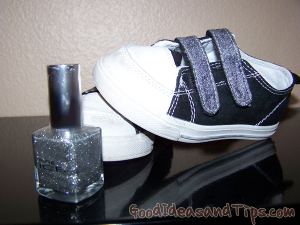 I pulled out my glitter nail-polish and went to town painting the Velcro tabs.
When the nail-polish was dry, I put a layer of Mod Podge over the painted area to seal the deal!
Guess what??? Now they are "GIRL" shoes and she LOVEs them.
Inexpensive, yet a perfect fix!