I've been busy sewing!!
I purchased some brown dotted minky from
Hobby Lobby,
and I've been waiting for the perfect time to use it.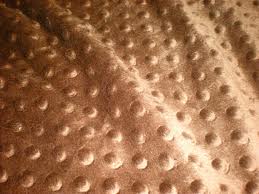 However, I didn't realize what a pain it was to sew.
3 different times I attempted to sew a piece of plaid cotton
to the backside of my minky material and I was very
unsuccessful.  In fact, it stretched and bunched,
and turned out horribly.
I actually seam-ripped the blanket 3 separate times before
getting it right!
So, I found these great tips for sewing with Minky,
on Fabric.com
(BELIEVE ME….YOU WILL WANT TO USE THESE TIPS!!)
Many people are hesitant to sew with minky because they are afraid it is difficult to work with.  While minky projects can offer a new challenge to sewers, a few simple tips can make take the fear and difficulty out of the experience.
Minky is stable parallel to the selvage and stretches perpendicular to the selvage (along the width).
Before you start a project, make sure to note the nap on the minky and cut pieces accordingly if you want the nap to lay a particular way.
Minky, like fleece, will not shrink with washing.  However, make sure to pre-wash all other fabrics you may be using in your project since they may.
When cutting minky, be prepared for a cloud of fuzz!  Try cutting pieces with a rotary cutter then taking them outside to shake them off, putting them in the dryer on the air dry cycle (NO heat), or keep a vacuum handy to cut back on some of the mess.
Test, test, and test your stitch length, width and tension on a scrap piece before you start your project.  Did we mention that you should test?
Pins are your friends.  Pin every 1" to 1.5" to ensure the minky stays in place.  It may be time consuming, but you'll thank yourself.
Use a walking foot to help with slipping.
To further prevent slipping, you can hand baste the layers before machine stitching.
If you are working with one layer of minky and one layer of another fabric, stitch with the minky layer down and let the feed dogs guide the fabric.
Give a generous seam allowance (about 1/2") as minky tends to curl.
DO NOT iron minky directly.  Instead, place minky face down on a towel and press gently on low heat or steam it.  Ironing and high heat will ruin the nap and any embossing in the fabric.
Don't forget to clean your machine's throat plate, feed dogs and bobbin case often.  All that fuzz can get messy and clog the works.
If you are making a quilt, use only a low-loft polyester or pre-washed cotton batting.  Even better – skip the batting altogether and save yourself the extra work.  The minky is fluffy and offers a great deal of warmth.So here is what I learned…*I didn't sew around the edges…
I started in the middle (the fourth time)haha
*I used my sewing machine to sew diagonally
(starting from the center)
and then every four rows of dots over,
I sewed another straight line.
(If you could just see my hands right now,
they are telling the real story!)
((yep, I am a hand talker))
*I also, did not use batting.  The minky is warm enough for AZ!
Here is a better picture to see the details.Then, I wanted to use a silky binding around the edges.I went to the store to buy some silk quilt binding,
but, in my little town…there was none.
So, I opted into buying some silky ribbon,
and folding it over the edge.
I did pin it to ensure the ribbon stayed in place. This is a little bit harder to work with than typical
quilt binding, but with a little patience…I love the way it turned out.And, here is how it turned out.
Plaid cotton on one side, minky on the other,
and a silky ribbon edge!I also made two others.
First one…I used fleece (solid blue),
cotton binding and a cotton backside (polka-dots).
This blanket also has batting in it,
so it's extra fluffy!
I tied it with brown yarn.The second one…It almost looks like a sleeping bag in this picture.
The front is made with a plaid flannel, there is no batting,
and the back side is an orange fleece.
I used a navy blue cotton binding around the edges.
*I sewed this one just like the minky by sewing lines
into the fabric, starting in the center and working my way to the edges!