Romantic Getaway at a Castle
Visit Castle McKenzie at Tulach Ard of the
Scottish Woods in Murphy, North Carolina
This comes to us just in time for Valentine's…
a Romantic Getaway!!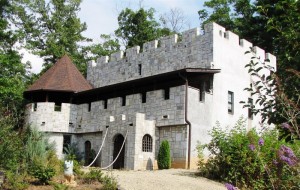 Maybe you just need to escape the city?
Get away from it all? Clear your head?
Maybe it's time to put a little romance back into your relationship?
Or start a new relationship!
Just the two of you… Solitude… Privacy… Intimacy… Seclusion… Passion… Romance.
Why not step back to a time when dragons were slain, castles were defended, and romance ruled?
Why settle for a hotel room… with their crowds and paper-thin walls?
Why settle for a cabin or cottage…
when you can have your own intimate,
luxurious castle to share with that special someone?
It's the perfect honeymoon, anniversary, or romantic getaway…
…fit for a king or queen.
This amazing castle even has a hot tub under the turret roof,
where you can enjoy the mountain view and
then go back inside and cuddle next to the fireplace.
I found these comments on their guest comment section,
Chris & Misty Johnson, Zanesville, OH:
We really enjoyed our stay here.
It is a very romantic and secluded location
and the castle itself is beautiful!
Not too big but not too small (:-).
And the hot tub on the terrace was the icing on the cake!
Thank you for making our honeymoon unique and special.

Another guest said;
Matt and Pamela Jones, Rockmart, GA.:
This place is simply amazing!
Our stay was great.
We were amazed at having a chance to be in the hot tub in snow.
The place is beautiful.
Sitting in the hot tub, watching the stars and it hits you….
"I'm in a CASTLE!!!"  Thanks guys, this place was great!
If you want more info on a great getaway,
Check out Castle McKenzie's Website.
AND…. Castle McKenzie is offering OUR READERS a 5% Discount
on the reservation when they book a stay,
and a Free bottle of Champagne or box of Chocolates
upon arrival if they mention
GoodIdeasAndTips when booking their stay.
How Great is that!!!