What Can Mr. Clean's Magic Eraser Do?
Well, What Can Mr. Clean's Magic Eraser Really Do?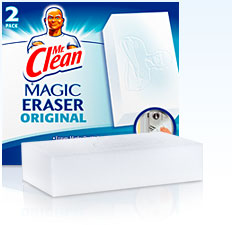 I found these fabulous tips on DIYLIFE.COM
From Mr. Clean's original "magic eraser" to the generic options, eraser cleaning blocks have made cleaning easier, less messy and dare we say…even fun! Sure, these foam blocks can get the gunk off walls (sometimes even upholstery if you're careful) and other household surfaces, but there are so many more uses for these little blocks of heaven. Here are 20 unusual uses for an eraser block to make the most of your spring cleaning time:
Quick Tip:Cut up one eraser block into four little blocks. It'll make your purchase last longer, and, it'll make it easier for you to get into smaller nooks and crannies.
1. Outdoor Furniture and Toys
Take grungy white resin or white painted furniture by lightly scrubbing with an eraser cleaning block. The eraser gets into crevices and cracks while leaving paint finishes intact. The same principle applies to outdoor plastic toys.
2. Pool Liners
Pool owners, this will make your life easier: A gentle scrubbing on your liner will get rid of the water mark better than any other product.
 3. Vinyl

Take an eraser to scuffs on just about anything made from vinyl: siding, boat seats, shoes, etc.
4. Car Interiors
Clean the car seats with an eraser block: Go lightly on leather, but it's okay on fabric and vinyl, lightly scrub the car steering wheel. Eraser blocks get rid of grease streaks left inside after the car's been to the shop, too.
5. Hubcaps
Clean your car's hubcaps with an eraser for a water-free car wash.
6. Refrigerator
Get rid of last year's drippings that are pooled in the back of the fridge. It'll take a whole eraser block, but it gets the job done. The seals that have gotten a bit black and moldy will also respond well to an eraser.
7. Dishwasher Interior
What are those colors inside your dishwasher from time to time? Lime, mold, ewww. Just take an eraser to them and the stains will banish.
8. Bathtub and Sinks
Getting rid of dirt and water marks is easier (and not so gross) with an eraser block. Bathtubs can take a tough scrub, but go lightly on sinks — even a light scrub gets rid of that caked on dirt that you often can't see until you try to get it off.
9. Rust Removal
Scrub anywhere (around pipes in kitchen and bath) that you see rust.
10. Computer
A magic eraser gets rid of oil and dirt that has built up on your keyboard and mouse; you can use it on laptops, too.
11. Phones
Use one on your phone's mouthpiece, too — it gets rid of the same grime that builds up on your computer.
12. Bugs
Wherever there are smooshed bugs (porch pillars, car windshields, interior walls, exterior doors, exterior light fixtures) wipe them away with an eraser block.
13. Glass Stove Tops
No need to have special stove top cleaner on hand, get rid of burned-on food by lightly scrubbing until the gunk is gone.
15. Gutters
Get rid of green slime that builds up on gutters with an eraser. It's another ewww-worthy task, but it'll be almost effortless with an eraser.
16. Mirrors (and Windows)
Many fans of eraser blocks swear it gives them a streak-free and clean mirror, if the pad is slightly damp when you give it a light scrub.
 17. Floors
Erase scuff marks, old paint drips-great for most floors (but always go lightly, especially on finished wood).
18. Grout
Which leads us to grout. The eraser does well with most grout (except really old and darkened-beyond-help grout that will remain gray even with best scrubbing efforts).
19. Granite countertops
Everyone is afraid to scrub granite, but an eraser pad, used at first gently and then with a little more oomph as the stains disappear, will indeed get stubborn stains out of granite.
20. Leather

You can use and eraser lightly on leather upholstery, purses or shoes to lift up marks — just be sure to use a gentle touch.
(Disclaimer-never use eraser cleaning blocks to clean skin, animal fur, glossy, brushed, satin or dark painted surfaces-including appliances, and lastly, never use on delicate fabrics.)
So here are a few things I use Mr. Clean's Magic Eraser for.  Deodorant lines on my shirt, because sometimes I'm not skilled enough to pull my shirt over head without getting white lines on my shirt.  The great thing is that the lines are gone quickly and don't harm my clothing.  I also use it on our shoes to get scuffs off, especially my daughter's church shoes.  It takes it all off.  I use it the most on crayon and pen that has been written on the wall.  They clean my bathtubs, kitchen and bathroom sinks, and toilets really well.  I have also found a substitute for Mr. Clean Magic Eraser and that is Melamine Foam. 
This is what Wikipedia says:
In the early 21st century it was discovered that melamine foam was an effective abrasive cleaner.[citation needed] The open cell foam is microporous and its polymeric substance is very hard, so that when used for cleaning it works like extremely fine sandpaper, getting into tiny grooves and pits in the object being cleaned. On a larger scale the material feels soft. Because the bubbles interconnect, its structure is more like a maze of fiberglass strands, when compared to the array of separate bubbles in a material such as expanded polystyrene foam (for example, Styrofoam).
Rubbing with a slightly moistened foam may remove otherwise "uncleanable" external markings from surfaces. For example, it can remove crayon, magic marker, and grease from painted walls, wood finishings, plastic-adhering paints from treated wooden tables, adhesive residue, and grime from hub caps[citation needed]. If the surface being cleaned is not sufficiently hard, it may be finely scratched by the melamine material. The foam wears away, rather like a pencil eraser, leaving behind a slight residue which can be rinsed off.
Melamine foam for cleaning uses is supplied by several companies under brand names such as:
Mr. Clean Magic Eraser

3M Scotch Brite Easy Erasing Pad

Nano Sponge

Coralite Ultimate Sponge
and generically as a "dirt eraser".