My Salon Doll-A Doll With Real Hair
I have a wonderful friend, who just introduced me to "My Salon Doll."
Many of us have daughters who love to play with dolls, and one of
the favorites is to dress them up and do their hair.
This is what she had to say about "My Salon Doll,"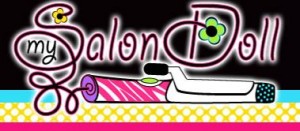 "Soooo, we just found this amazing doll this December.  I am sharing this with my friends who have young girls… it's sooooo much fun!  This is the first doll ever created with REAL hair.  It has real hair extensions, so you can do everything with it that you can with our own hair.  You can brush it, style it, WASH it, DRY it, CURL it, hairspray it, etc.  Just NO cutting or it won't grow back :) It's unbelievable as most doll's hair just get matted or even ruined if it gets wet.  The Salon Doll is also 100% vinyl and can get in the water too!

My daughter had a blast playing with her doll!  She's spent countless hours styling and restyling her doll's hair!  One day she wanted to crimp the doll's hair and then her own hair too… well, what was I to do… "If you can't beat them, join them!" (hence the picture of all three of us with crimped hair). The next day after the crimping, she took her doll into the tubby with her.  She had a blast washing and conditioning her doll's hair.  Then, we pulled out the hair dryer and my daughter dried almost all her doll's hair by herself!  Way too much fun for a little girl! Initially she wanted an American Girl doll (which are adorable too) and THEN we found My Salon Doll. Can I just say uhhhhhmazing! The pricing is comparable to an American Girl Doll, so gotta save them pennies, but the fun never seems to end for us.  We've had Salon Days in the bathroom and we can't get enough of trying different hair styles and designs using elastics, clips, ribbons, flowers, bows, and on and on! … you can even put pierced earrings in the doll's ears… so cute!  We've found this doll completely worth it and a favorite gift of my daughters for years to come I'm sure. 
Anyway, I just wanted to share in case you're interested… it's a thought to keep in your mind for another holiday or celebration.  The Salon Doll just came out this last year, so you may not have heard about it yet.  Sure to be a big hit!! "
So, If you have a little girly and are wanting a gift that she will love for years to come,
Check out the "My Salon Doll."
ps….I'm not getting any perks or payment to say anything about this doll, I just think she's a fun idea!