TOMS is a Favorite!!
Truthfully, it's all about the concept for me.
k…so if you are not up to date, let me explain.
TOMS is a shoe company designed with one objective in mind.
"ONE FOR ONE"
Which means, For every pair you purchase,
Toms will give a pair of new shoes to a child in need.
So, You buy get a new pair of shoes, and so does a needy child!
It's a win win, or a "one for one" situation!!
Well, Stacy over at Kid Stuff World just shared something
super spectacular and I wanted you to know about it too.
(In fact, the more people that know, the better!!)
TOMS has teamed up with another amazing company, "FEED,"
and together they are creating something amazing.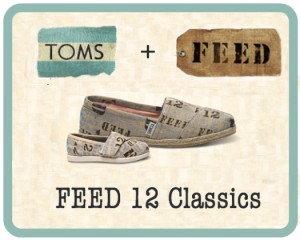 The limited edition FEED 12 Classic not only gives a brand new pair of shoes to a child in need for every pair purchased, but also goes a step further by covering the cost of 12 school lunches.
Available at TOMS online starting April 1st.
Selections are limited, so mark your calendars and do something good with your feet.