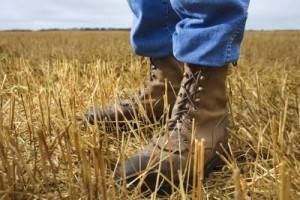 Our readers here at "Good Ideas and Tips" are so fabulous!
And JEN shared this great idea with us on how she fights off the smell in her husband's boots!
"To combat my hubby's stinky work boots, I made my own odor eating inserts.
Using two old pairs of socks (or not-so-old, as long as there aren't holes in them),
I put about 1/2 cup of baking soda in each sock of one pair.
Then, I put each of the the baking soda filled socks inside another pair of socks,
creating two layers of socks between the soda and the boots.
This helps keep the soda from seeping out.
Then, every night, when dh (her man) takes his boots off,
he just drops one double sock in each boot.
The baking soda absorbs odor and moisture and by the next day,
the boots are fresh and ready to wear! "
Thanks for sharing Jen.  I am definitely going to share this one with my dad!