Topiary Made from Dum Dums
Spangler Candy has done it again, and is sharing a fun
idea with us here at "Good Ideas and Tips."
The Dum Dum Topiary can be used for spring brunches or Easter decorations.
It even incorporates gluten free lollipops so any of the kids and guests can enjoy it.
(Thank You Spangler Candy for the Yummy Ideas!)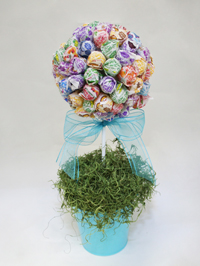 For elegant Easter decorations that are easy on the wallet and your busy schedule,
try the Dum Dums topiary centerpiece in pastel colors.
In just a few simple steps,
you can create a beautiful topiary for your Easter buffet or table.
These affordable, one-of-a-kind centerpieces
add great height to your table and are sure to be a conversation piece.
Even better? This is one centerpiece that's also edible, so enjoy!
What you'll need:
•    Assorted Dum Dums in pastel colors
•    Pastel ribbon
•    Floral foam
•    Decorative pail or pot
•    3" Styrofoam ball
•    Moss
•    Wooden dowel
•    White paint
•    Foam brush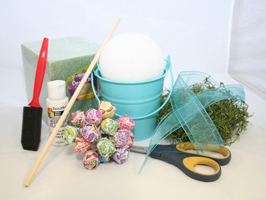 How to make it:
1.    If you can't find a white dowel, start by painting an unfinished dowel with white acrylic craft paint. Set the dowel aside to dry.
2.    Take a Styrofoam ball and insert pastel colored Dum Dums until the ball is completely covered. If you find that the lollipop sticks start to run into each other inside the foam, simply trim the sticks with scissors.
3.    Place a piece of floral foam inside your pail or pot. We chose a pretty blue metal pail to go with our Easter theme.
4.    Insert one end of your dowel into the Dum Dums-covered Styrofoam ball and the other into the floral foam inside the pail.
5.    Finish off your centerpiece with a ribbon tied around the dowel and some decorative moss to cover the floral foam.
That's it! In just five easy steps, you've created an elegant topiary Easter decoration.