Baking Soda adds Travertine Texture
Here's one more fantastic use for Baking Soda.
It can add a travertine texture to concrete!!
Completely natural and Awesome!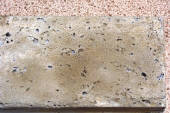 The Mold Store teaches their customers how to turn plain concrete into expensive Travertine textured and finished tile, stone and pavers, using Baking Soda and the rock salt that is available in food stores for making ice cream! It's sprinkled into the mold, on top of the oil mold release, prior to pouring in the concrete. They offer complete instructions in the form of an Article on their "Instructions" website.
Real Travertine can be very expensive, and it is very popular, but many people can't afford it. The items mentioned and others can be made with their instructions, some concrete, the concrete mold of your choice, and a bit of concrete coloring for just pennies…
The results are almost indistinguishable.
(wowsers…that's a big word!)
The technique can also be used on slab concrete sidewalks, stepping stones, patio blocks, etc.
Click here, http://www.themoldstore.  to view the Travertine Instructions. There are photos to illustrate the various levels of control that you can have by adjusting the quantities of baking soda and rock salt used.
BAKING SODA really is awesome!