Mulch it up for Spring time
This is a Sponsored post written by me on behalf of Scotts Miracle-Gro. All opinions are 100% mine.
Spring time is finally here, especially if you live somewhere in the southern states of America. And along with Spring time comes the urge get outside and get some yard work done. Here in southern Arizona, that means turning that brown yard into a green pad of spring time fun.
Our projects this year include tearing down an old shed, filling in an old pond we no longer use and planting a few trees around our property. Our home currently resides on 1.2 acres of dirt here in the south east corner of Arizona, so keeping things green and looking good can sometimes be quite the chore. It's important that we use sustainable gardening products when completing our landscaping projects, which I'll touch more on later in this article.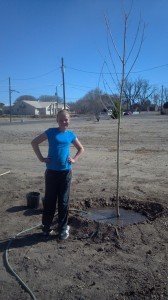 So far, our first project is complete, which was planting our tree. We had an empty space between our property and the lot next to us and needed something to fill the space. We've always had a thing for huge trees, so Amy and I decided to plant a poplar tree, or a cottonwood. It'll grow fast and provide us the coverage we're looking for. But in order to plant our tree, we had to cut down a suffering walnut tree, and I never hesitate at a chance to break out with the ole chainsaw!
Here in the Gila Valley, the water company has issued some water restrictions, which only allow us to water twice a week. Keeping the ground beneath the tree moist is vital to it's survival, having the appropriate gardening supplies and adding a good layer of mulch will help do the job right. If you're planning on planting a tree, make sure you lay it on thick. A thin layer won't do you much good.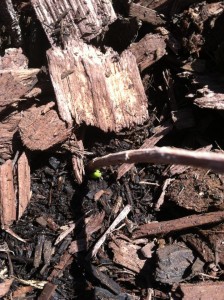 Just a side note, if you're looking to plant new trees, shrubs or other plants this spring, it's important to use products which are all natural, that won't contain any material or chemicals which could make it more difficult for your plant to survive.
It's also important to allow your newly planted seeds to sprout and grow tall enough to be able to receive sufficient sunlight. So as you spread your mulching product, be sure to pay special attention to where you've planted your seeds.
As an example, we had always heard that you could take a branch from a Cottonwood tree, place it in the soil, keep it most and it would grow. So we decided to try it out, and within a few days, a sprout started to come up through the soil at the base of the branch we had planted. And with the sprout being only a half an inch tall, as we added our mulch, we were careful so that we didn't restrict that sprout from growing.
So for those of you who had heard the rumor, it can be done!
In order to get off to a good start, here's some of the tools and essential products we'll need or have used thus far:
Shovels, rakes, trimmer etc.
In my neck of the woods, we burn our grass every winter to get ready for the new growth. So add a propane torch to the list.
Weed and feed. Kills the weeds before they have a chance to grow while leaving nutrients for the grass.
Potting soil, or gardening soil.
And let's not forget Scotts Florida Select Natural Eucalyptus Mulch for that finishing touch.
And as an alternative for those of you who do not live in Florida, use Scotts Nature Scapes mulch. It comes in three different colors – Classic Black, Sierra Red, and Deep Forest Brown, and they're natural forest products as well, which means no waste wood. Scotts Mulch helps to maintain moisture, prevent weeds, and create a groomed landscape all year long.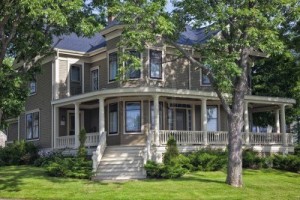 And as for Amy and I….here's a picture of what we'd like our little piece of Arizona dirt to turn into. A little oasis in the desert! We've definitely got our work cut our for us.