Protect your PC with Vipre Internet Security
This is a Sponsored post written by me on behalf of Vipre. All opinions are 100% mine.
As a blogger, there is nothing worse than trying to blog on a computer that has been infected with some kind of virus. Well, maybe there is, but it sure is frustrating and obviously comes as a result of poor to little internet protection.
So how do you know whether or not your computer has been infected?
Here are a few tips that will help you know if your computer has any unwanted software running in the background.
If certain settings change on your computer when you know you didn't make those changes personally, there's a pretty good chance that your computer is infected. A good example is your desktop settings. If your background picture changes or your icons disappear, it's time to get a good internet security software.
This happened to me recently, but my PC all of the sudden forgot which programs were supposed to open certain files, such as a .pdf or .csv file. It was a sudden change, because I have been opening those programs forever without any problem.
This one is more obvious than others, but if you're browsing the internet and you begin seeing popups, or words turning into advertisements, you're infected.
But here's the kicker, some harmful programs are designed to go undetected, running behind the scenes without your knowledge.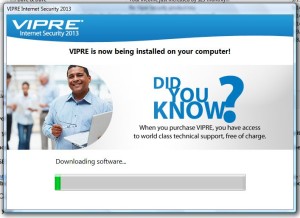 So here's what I did….I downloaded Vipre. It's an internet security software that scans, quarantines and protects your computer from future attacks. And here's the crazy part, I already had an internet security program installed on my computer, which was up to date and supposedly protecting my computer. It was called Spybot. It's freeware, and maybe that was my first mistake, because Vipre found around thirty threats which Spypot hadn't picked up on. Three of four of those were high threats to my computer.
Anyhow, downloading and installing Vipre was extremely simple, so if you're inexperienced with a computer, don't sweat it. It will walk you through the entire download and installation process.
So if you suspect your computer might be infected, I highly recommend VIPRE Internet Security. You can find more information on their website at Vipreantivirus.com.