Community. It Is What You Make Of It!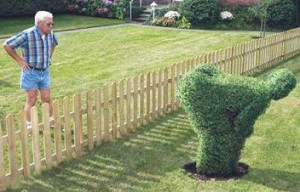 Have you ever moved to a new neighborhood and felt as though your neighbors made you feel like you were chopped liver, not welcome in the community or part of the "IN" crowd? When all you really wanted was a simple "hello" or a plate of cookies with a note attached saying, "Welcome to the neighborhood," you receive the cold shoulder instead.
I'll throw my hand in the air on that one. That exact thing happened to us a few years back when we moved into a cul-de-sac located in a newly developed neighborhood. Well, it wasn't all that new, but there were new custom homes being built in that development often.
The only ones in the community to reach out to us were the ones least expected to do so.
So, instead of being the victim here, we decided to go on the offensive and "be the change we wished to see in the world", or maybe just in our little cul-de-sac. Amy baked several plates of cookies and either delivered the cookies herself, or had our kids take them over.
On top of that, while mowing my lawn one day, a certain spot of our front yard connected with the front yard of our neighbor's, so instead of making a nice cut line and only mowing my side, I just mowed theirs as well.
Our neighbors started responding. They came over to meet us, dropped plates of their own goodies off and made an effort to welcome us to the neighborhood.
Somewhere deep inside, we all want to be included and noticed. Even in the smallest ways. Instead of being the ones that weren't included, we included others into our lives. Who knows…maybe they were all feeling the same way we were. Maybe they were all new to the neighborhood as well.
Throughout my life, I've seen people from all over the world spend tens of thousands of dollars, travel thousands of miles and jump through hoops, all in search of acceptance and community. They join Network Marketing companies, change religions, move into communities like Devonshire at PGA National, just to find a sense of home.
In general, they want to be included.
With that said, here are a few ideas to help you make the most of the community you reside in.
Mow their lawn
Bake them a plate of goodies
Roll their trash can out, or back in once it's empty
Keep your own yard clean
Be the neighborhood alert when you hear of a predator or incident in the area
Always wave or say hi to them as you see them, regardless if they respond
Fill them in on social gatherings you're having as a courtesy
Invite them into your home
Take care of their belongings as you would take care of your own.
Offer to take care of their pets if they leave town
Again, these are just a few ideas. Basic rule of thumb is to reach out when you see an opportunity. You don't have to try to convert them to your church or be best friends with any of them…just let them know that you're trying to get to know them and that you're a good neighbor.