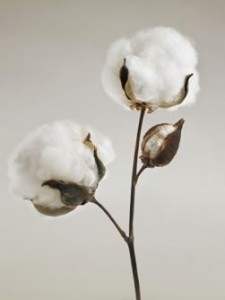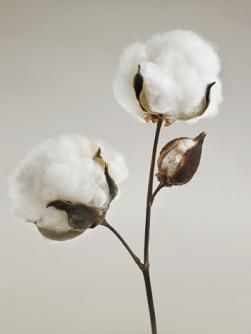 On your next sewing project, you might consider using Egyptian cotton. Here's a bit of information on all the reasons why.
Egyptian Cotton
Egyptian cotton has long been renowned for being one of the most luxurious, and durable, of all cotton yarns. It is a type of gossypium barbadense, a cotton plant which is typified by its strong, silky-soft fibers and extra-long staple (usually no shorter than 1 and three-eights of an inch). The length and strength of the fibers enables the cotton to be spun into a yarn that is extremely fine and tightly bound, making the end product incredibly soft and comfortable. This makes Egyptian cotton one of the most sought-after of all cottons, and this is why it has gained a reputation for being a high-end, luxury product that always delivers the highest in quality, durability, and sumptuous softness.
Since time immemoral, Egyptian cotton has been grown and cultivated along the banks of the River Nile, and it is deservedly one of the world-leaders in the cotton yarn trade. Egyptian cotton is completely harvested by hand, because the extra-long fibers would be damaged if it were picked by machines, as many other cottons are. Giza cotton in particular is prized for its extremely long, strong fibers, which makes it especially suitable for embroidery thread as well as for quality bedding. Stocks of Giza cotton are, however, in short supply, as the seed itself has "run out". Attempts are being made by both the Egyptian government and by the cotton growing industry to develop new strains of the seed, but at present, there is only enough stock of Giza cotton to last for about another decade, making it all the more valuable and highly prized.
Egyptian cotton is valued, and valuable, because it is at once soft, fine, and breathable, but it is also an extremely strong, absorbent, and durable yarn which is highly resistant to pilling. These fine qualities explain why Egyptian cotton is the most sought-after cotton for luxury, top quality towels, bedding and clothing. For a fantastic variety of superior quality Egyptian cotton yarns, take a look at this wide range of Giza 45 cotton.
The uses for Egyptian cotton are almost endless. It has long been considered the ultimate fabric for luxurious, super-soft, elegant bedlinen, and its high absorbency also makes it the perfect material for thick, fluffy towels and bathrobes. Egyptian cotton is also ideal for breathable, durable, quality clothing which is suitable for any season and which will stand the test of time.