Artificial Grass – The Secret to Keeping Your Grass Green All Year Long!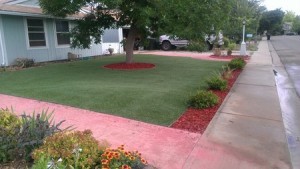 I currently suffer from a major case of "Green Grass Envy!" It kills me to drive by somebody's well manicured yard knowing that mine is less than perfect. Well, I'll be more honest than that…mine is extremely less than perfect. If there were a scale, or a graph to measure how perfect my lawn was, it would be somewhere near the bottom. That might be largely due to the patches of dirt in between my patches of grass!
Go figure.
After hours and hours of taking care of my yard, I finally know the secret. I know how to keep my yard green all year long, weed free, without having to pull my hair out.
Here it is. Get artificial grass!
That's my solution!
Right now, you might be envisioning the fake grass looking stuff that your parents or grandparents have on their front porch. Please, get that out of your head. That's not the artificial grass I am referring to.
The stuff I'm referring to looks and nearly feels like the real thing. I mean, it's hard to tell the difference. The only way anyone would ever know that an installed piece of this grass is artificial would be the fact that it is always the same length and never has to be watered!
If I didn't ever have to mow, or water…I think I could handle the criticism.
How much would it cost me to install artificial grass?
Just as with anything new, you might be wondering how much it would cost you to install artificial grass. And just as any kind of improvements you make to your home or yard, the price depends on how much work you are willing to do yourself. If you're looking to get some artificial grass shipped to your home to install yourself, for a decent grade of grass, you're looking at around two dollars per square foot. Prices vary, of course, depending on who you buy your grass from and the grade of grass.
You also have to factor in the cost of supplies you plan on using to prepare for your grass install, such as sand or rubber. The cost of these types of supplies can also vary, depending on what you get. Sand would probably be the cheapest.
To have it installed, labor costs can be up to two or three times the cost of your grass and supplies combined. So if you're cost for supplies is around $600, you can estimate installation costs to be somewhere near $1500 to $1800, for a total project cost of close to $2100 to $2400.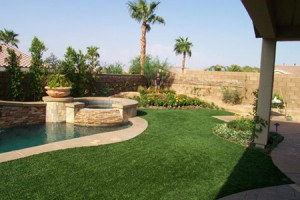 So if you can put in a little manual labor, you could save yourself a chunk of change.
How long does artificial grass last?
The wear and tear on artificial grass depends mostly on the amount of traffic and the environment it is installed in. But as an estimate, a typical warranty lasts eight years for a normal grass install. Some companies might have better or worse warranties for their products. Be sure to find the best one. Chances are, if the warranty is for longer, their product might hold up better.
Just a few more facts.
You might be wondering what happens to the grass when it rains or snows. Does it puddle? The answer is no. Artificial grass is designed to allow normal draining of water.
The types of materials you can prepare an area with for grass installation are sand, rubber crumbs or Envirofill.
In conclusion, it's something to consider. For those of you who have a pool, there's nothing better, besides concrete, to have around your pool. No grass trimmings to skim out, weeds to keep down or grassy feet to wash off.
If you're tired of taking care of a lawn, artificial might be the way to go for you!