Lights, Action … Let's Go Green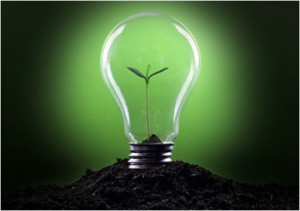 When it comes to lighting, I am jealous of our local town hall.
In fact. the place has everything considered "green" in the world of modern architecture that is available for a simple town hall in upstate New York. That does not mean it was not built with heat from nearby hot springs. It does not have electricity from geo-thermal sources or from turbines turned by the tides.
But it has a few green amenities and some environmental bragging rights for the simple reason that the town board–at the time the new town hall was build five years ago–was comprised mostly of Republicans, who stood accused of squandering opportunities that could prove they were environmentally friendly.
Being good politicians, they recognized the new chance to spend other people's money to make themselves look good. So now we have a very green town hall. And it's a beauty.
The lighting is particularly impressive. The building has strategically placed sky lights that do far more than skylights in days of old. Now with acrylic printing, a wide variety of skylights for residential and commercial spaces can be built.
Those old skylights let light pour through panes of glass. The new variety reflects and magnifies the light through a series of silver plates, mirrors and glass. On a cloudy day outdoors it is brighter inside the courtroom of this town hall than it is outside, where the diffuse light is swampy and lazy.
Inside, that trickle of light is magnified, so that light is generally free inside the building that is, in all truth, hardly in the sunlight capital of the country. In fact, about an hour down the road is the municipality noted for having the least amount of sunny days per year among U.S. cities. Yet, this dismal weather pattern still allows for the building to have enough light most days of the year through its passive lighting system.
It is important these days to have electric lights that are also efficient. The use of LED lighting like led high bay light has clear advantages over standard bulbs, and there are options for retrofitting already existing light fixtures to convert them to LED lighting. Additionally, the Altech Efficiency company offers not just LED lighting but also induction lighting, which can cover garages, canopies, roadways, and wall mounted fixtures, among others.
To put it one way, you don't need the threat of an election year or the need for a new town hall to move your local taxpayer-owned buildings in the right direction.
Granted, many other strategies for turning a building green are not available through retrofitting. You can't dig a basement after the fact. Standards for certification as a green building include a heavy reliance on recycled building materials, and that switch cannot be made to an existing structure.
A fully certified green building includes energy efficient lighting and heating and cooling systems, which includes the use of geo-thermal systems that do not always have the extravagant option of using a nearby hot springs. Often heating or cooling system water is simply pumped deep underground in order to bring the temperature to a naturally occurring neutral temperature. Then, when the heating or cooling system is required to change the water temperature, the neutral starting point lowers the need for energy usage.
If you were not building from scratch, you would first start with a facility performance evaluation. This is an extensive energy audit that also evaluates aesthetics, cost-effectiveness, functionality, productivity, safety and sustainability.
There is also a balancing point among these factors. For example, a nearby coal-burning plant might be the most cost-effective energy source, but solar energy is far cleaner and more sustainable in the long run. On balance, cost has to include an examination of clean-up costs or costs to society, such as health costs caused by breathing in unhealthy air.