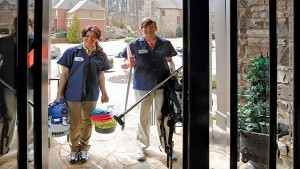 Have you ever asked someone what kind of solution they use to clean their floors…and they look at you with a blank stare as they stutter out the words, "I think we use a…." Yeah, she doesn't clean anything at home.
The maid profession has changed significantly over the years. People no longer find it a convenience for a maid to come to their home in the morning and leave at night. Homeowners of all professions have to deal with tight schedules, so having a maid who stays all day has become nearly non-existent.
Scheduling Of Maids
Today's maid agency emphasizes speed and efficiency. When a maid service such as Maid Right gets a call for a job, a representative from the company will go to the home for an estimate. Since every home's cleaning needs are different, a regular cleaning schedule will be arranged with the homeowner, and one maid or a team will be sent out.
Maids usually work during weekday hours, so homeowners often are away at their own jobs. A key to the home is left with the maid agency for entry, so please be make sure that the employees in the company you hire are bonded and insured.
Regular And Special Services
Maids bring all their own equipment. The only thing homeowners are usually required to do before they come is to pick up toys or other items that may have been left on the floor.
Most maid companies will offer specialized cleaning treatment for a home. They generally charge more for these services. A customer may ask for their carpet to be cleaned, or they may have a specific area of the home that needs to be cleaned that will require much more work. There are also certain services they won't do, such as washing dishes or doing laundry.
And I'm not sure about you, but if I'm hiring a maid, dishes is top of the list. Before hiring a maid service, make sure specific tasks are on the "to-do" list.
Green Cleaning
If you're a stickler for keeping things green, know that maid agencies are aware of the push for environmentally safe products. Many of them use green cleaning solutions that are safe for children and pets.
Customer Feedback Is Important
Since in most cases the relationship you develop with your maid will be long-term, it is important to supply feedback about the job they are doing. Most maid companies encourage this by keeping a customer log of information. It is also important to keep the service updated on changes to your schedule or cleaning needs.
Cleaning is something that needs to be done, but can take up so much of your time. So if time is a precious commodity, let somebody else do your dirty work!