5 Different Furniture Styles for Your Home
I was absolutely positive that certain fads would never find their way back, such as bell bottoms, MC Hammer pants and 80's hair do's. Last I checked, white washed pants were back in style and in full force! All I can do is sit here, shaking my head thinking, where has the world gone!?
I'm sure you can relate.
In the world of looks there have been some constants, just as there are in the interior design arena. Will contemporary always be the constant, or traditional? Who's to say? All I know is that I really can't stand the "modern" look, well, most of it anyway. I know some people who purchase nothing but contemporary furniture…such as my sister and her husband. All great minds DON'T think alike! Whatever the style of furniture you'll end up purchasing, just make sure that a reliable new furniture delivery company will transport them carefully to your home. So, here are five different furniture styles for your home, just in case you're torn between two or three.
5 Different Furniture Styles for Your Home
Rustic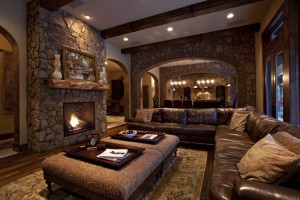 Rustic furniture and interior design has always been my favorite. There's nothing like dark leather couches, a rock fireplace, thick carpet over wooden floors and dark stained beams above your head. This style is attractive to me most likely due to my love of the mountains.
Rustic furniture (such as barstools) and design feels at home for me, but if you're someone who lives in the city, or in a hot and humid place, rustic might not be the best choice.
Traditional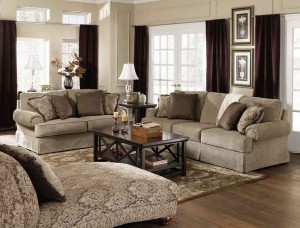 In my eyes, traditional furniture and interior design isn't too shabby either. This is probably the style, along with country, that has been around the longest and is the constant. Most of the homes I grew up in and around had a traditional design inside and out. When I think of traditional, it's not really centered around a fireplace or a television, it's an environment that encourages relaxation, reading, visiting, and not a lot of lounging. It's very clean and organized.
Reminds me of my rich relatives.
Country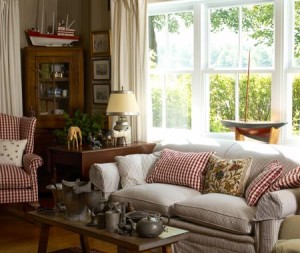 Having grown up on a dirt road most of my life, I can really relate to the country style of furniture and interior design. There's nothing like decorating your kitchen with chickens, pigs and cows with accents of green, red and yellow.
Our first home was a country design, which included a yellow topped table with white legs, strainers and metal milk jugs on and against the walls, rolling pins neatly aligned on their own hanger and a bowl of apples in the middle of the table.
Living rooms will have plaid and muted colors mixed with red, yellow and green. Tables and chairs will be simple designs made out of wood and will be complimented with wooden cabinets and wood framed pictures on the wall.
Contemporary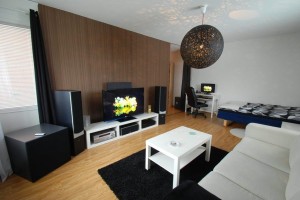 I've never really understood contemporary, which is why I probably should have my wife explain this one to you. Contemporary is a more modern look, with a much more comfortable feel than "modern" interior design. Contemporary to me has boxy, thinner and light colored furniture. It's an open feel with crisp surfaces and dark accented walls and pillows. I see it as taking a bunch of different sized and shaped rectangles, and fitting them together in a pattern that looks nice.
If you tend to bring more dirt into the home than the average person, this might not be the right choice for you.
Modern
Modern furniture and interior design has to re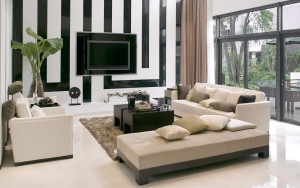 ally grow on me, but that's not true for everyone. I tend to gravitate towards thick and dark, while the modern design seems to be thin, sleek and contrasted between light and dark furniture. Electronics are usually in plain view and can be the main focal point. Furniture styles can be a mix between odd shaped, wavy and boxy. Modern designs tend to be very light, open and shiny!