Best At Home Teeth Whitening Kit
*I received this product in exchange for my honest opinion
You know when you are talking to someone and they have a super fabulous smile
with teeth that look so clean and white?!
I love pretty smiles, and I have found myself
wishing my own teeth looked that white.
Well, Justified Laboratories sent me this really cool kit to try out and let you know what I think.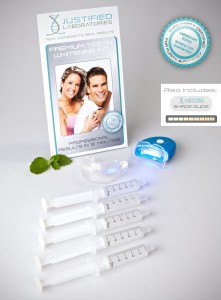 In the kit I received a
Mouthpiece
5 tubes of whitening gel
UV light and a
Whitening scale guide
The road to whiter teeth takes ten days to complete, and this is how the whitening system works. We are supposed to add a drop of the pre-filled syringes into the little grooves on the mouth piece and then put it in our mouth for 20 minutes.  Then hold the blue light in our mouth, pointed towards the teeth for 20 minutes each day for 10 days.
did it work?
YES, I absolutely loved it.  My teeth are noticeably whiter and it's so great.
I think it's by far my favorite at-home whitening kit I have used.
I didn't mind holding the little light in my mouth, as long as I had no where to go
and no one to talk to, haha!  As gabby as I am, that was sometimes difficult to time just right.
The other thing is it took 20 minutes…which is hardly any time at all, but I did have to arrange my day to make sure I allowed myself the 20 minutes to use the kit.
But the Pros of using this product, completely outweigh a little bit of time set aside.
My goal was to have a super fabulous smile, and it is completely achieved!!