Do Surge Protectors Keep Your Home Safe?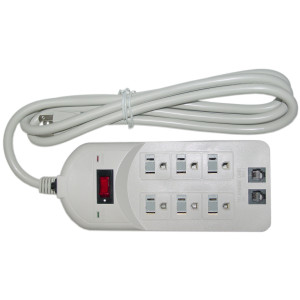 If you're like many consumers, you might consider your surge protector to be a comprehensive safety device. Unfortunately, this is not always the case. While surge protectors are usually capable of safeguarding low-amperage electronics, they are not heavy-duty enough to protect others. Not only that, these devices can actually cause fires themselves. In fact, the Consumer Product Safety Commission has recalled many surge protectors. Here are some tips to keep your home safer.
Know What You're Buying
Do you know the difference between a surge protector and a power strip? These devices have similarities, but are not identical. A power strip just distributes the energy from your outlet to multiple ports. A surge protector is meant to safeguard electrical items against:
Power surges
Interference
Noise from power line
Be Aware of Limitations
Surge protectors that you purchase through retail outlets are designed for light duty. This means that they may be able to protect your low amperage equipment such as computers and printers. They are not, however, comprehensive enough to safeguard other electrical devices, such as:
Heaters
Fans
Coffee Makers
Buy the Safest Products
When you do purchase a surge protector, make sure you opt for the safest products. For example, buy units that have:
Internal circuit breakers, because they will be tripped if overloaded or shorted instead of catching fire
Seal of approval from Electrical Testing Laboratories or UL (Underwriters Laboratory)
An adequate number of ports for your gear
Read the Fine Print
There are several items to check for in the fine print of your surge protector's manufacturing paperwork. Look for the following:
Make sure it has the UL (Underwriter's Laboratories) seal of approval.
Make certain it's considered a transient voltage device that meets UL 1449 standards.
Read up on its absorption rating, which will tell you how much energy your unit is designed to absorb.
Check its warranty for details about what will be covered in the event of a fire or meltdown.
Know the Rules
Familiarize yourself with some basic rules regarding surge protectors. By following these guidelines, you can reduce the risks.
Do not use surge protectors in damp or wet areas.
If your device heats up and becomes too hot to touch, unplug it and monitor it for overloading.
Make sure that air is able to circulate freely around the device by not covering it with furniture or carpeting.
Don't use an extension cord to power your surge protector.
Always use a grounded three-prong plug.
Inspect your devices regularly to make sure they're fully functional.
Stay Informed About Recalls
Because the Consumer Product Safety Commission (CPSC) has deemed surge protectors unsafe, many of them have been recalled. Make sure your device is safe. The units that have been recalled have overheated, melted, and/or caused substantial damage, including:
Property damage
House fires
Smoke inhalation
Burns from coming into contact with the hot device
Safeguarding your electronic devices is an important consideration, because your laptop and printer are valuable items. It is even more important, however, to keep yourself, your loved ones, and your home safe. If you educate yourself about surge protectors' safety features, limitations, and recalls, you can ward off many of the associated dangers.