Keep Your Drinks Cooler Longer with Clean Steel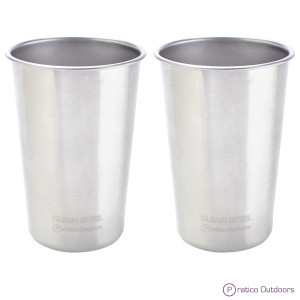 Growing up I remember drinking out of multi-colored metal cups while at my Grandma's house. I'm sure most of you can relate. I loved those cups, mostly because they usually had Rootbeer or punch in them! What kid wouldn't, right?
Now as a parent, I realize how invaluable "unbreakable" cups are when dealing with children and their drinks.
And as an adult Dew drinker, in the Summer months, I like my drinks cold.
I was recently sent some stainless steel cups by Pratico Outdoors in exchange for my opinion, and after multiple cups of Mt. Dew, I'm hooked. Every time I head to the kitchen for a drink, I'm looking for the Clean Steel cups, which have usually been snagged up by my kids.
Stainless Steel Cups Review
Just a few things I'd like to mention about these cups…
For one, even though they remind me of the cups I used to drink from back in the day, they are different. I believe the ones back in the day were made of aluminum, while these cups are made from stainless steel. The old style cups had a sharp drinking edge, and if dropped on too many times, or bent, it can become sharp. The lip on these Clean Steel cups is rolled, or curled.
Second, these stainless steel cups keep my drink colder, longer! I poured myself a Mt. Dew and accidentally forgot about it for twenty minutes, and when I returned, the ice had barely melted and my Dew was still perfect. That's priceless!
I haven't been able to test warm drinks yet, because it's Summer time, but will definitely have the opportunity when Winter hits. We're kind of big on hot cocoa here.
The only negative, which isn't really a negative, is the amount of condensation you get with Clean Steel. It's more than the average plastic or glass cup, but really doesn't bother me at all….and I'm sure condensation varies depending on the humidity in your area.
But in conclusion, I give these stainless steep cups five stars. I think they should be on the shelve in every household, or in your camping tote. Great cups!
Thanks Pratico Outdoors for the Stainless Steel Cups!
You can pick some up on Amazon by using the link above.