DKnight Magicbox II Bluetooth Speaker Review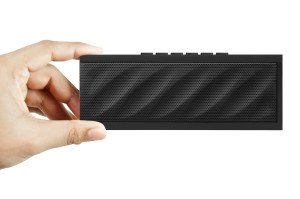 I'm sort of addicted….to many things, but my most recent addiction is to Bluetooth electronics. After having to use a friggin' chord for so long, Bluetooth everything just intrigues me. So, I'm sort of hording devices with Bluetooth capabilities…computer mouses, keyboards, speakers, TV's, and the list goes on and on.
I've done review on other bluetooth speakers in the past, but today I'm focusing on the DKnight Magicbox II.
Before I even get into the specifics, the thing I like the most about this speaker is it's size and color. As you can see by the picture, it's smaller than my hand (approx. 6x2x1.5 inches) and with it's black color, it blends in perfectly with most of my electronic devices.
You know how much I love to match! (blah)
So here's my review of this little speaker: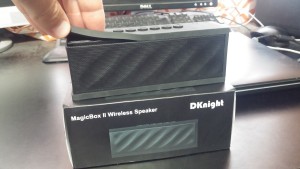 Sound – I give it 5 stars. It seems to have the perfect mix of bass and treble. It's no Sony surround system, but it beats any laptop speaker.
Durability – It's speaker grill is extremely sturdy and is topped with rubber on three sides (Top, Side and Bottom)
Battery Life – I've been using it for several weeks now and haven't had to recharge it yet. I use it for a few hours a day.
Ease of Use – Connects very quickly with the LG G2 that I currently use.
Overall, I'm digging it. It's the smallest Bluetooth speaker I have and sounds just as amazing. I do feel a little weird when talking to my speaker when a call comes in, but the microphone works like a charm!
Just a disclaimer, I did receive this speaker in exchange for this review, which is awesome…because I really am obsessed. My review is 100% accurate and unbiased.
Pick up a DKnight Magicbox II Bluetooth Speaker
using that link and get your mosh pit on!