Get Yourself a Selfie Stick (A Good One)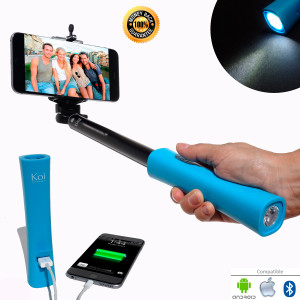 At one point, I cursed the day that the word "Selfie" would become an official part of every language on the planet, but despite my curses, it happened. As for myself, I still refuse to take a "Selfie" unless I'm with someone cooler than me, or standing next to something amazing, funny or downright disgusting.
But that's just me.
So here I go, writing a post which is going to tell you to buy yourself a Selfie Stick! I know, I'm such a hypocrite!
I was recently sent a selfie stick from Koi Technologies at a significant discount, in exchange for my unbiased opinion of it, and quite frankly, I was expecting a stick, with a button, that helped my phone take pictures….and that's what I got. What I wasn't expecting is for this selfie stick to act as a remote control (for my phone camera) and a flashlight at the same time.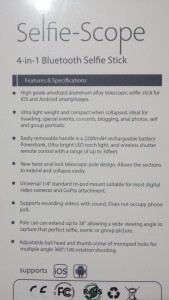 One of my gift buying philosophies is to only buy gifts for people that I can use myself, if the need arise. So, I purchase woodworking tools for my wife, bullets for my brother and sports equipment for my kids. It works!
I can say that this selfie stick is useful, beyond just taking better pictures and videos of yourself and your loved ones and all the cool places you visit. Not only is the detachable handle a remote and a flashlight, it can also recharge your phone in the event of an emergency….or not so much of an emergency. Maybe you need just a little more battery life to snap that last photo. Just plug it in a recharge it enough to do so.
I've taken a picture of the back of the package to show you all the features it has. So if you are looking for a selfie stick, this is the one to get. I actually ordered the one with the light blue handle, and wish that I would have ordered the black handle, because I would have liked a more rubbery finish on the handle.
Here's the link to order the KoiTechnologies Selfie Stick
on Amazon.