3 Selfie Stick Tips with Bonus Product Review, Lucky You!
I'm not much of a selfie guy, as you can probably tell. In fact, it makes me very uncomfortable to see a selfie that one of my buddies took of himself, and then posted that selfie to a their social profile. Well, I should add something to that…..unless they're being goofy, with someone, standing in front of something awesome and so forth. Full body shots in front of a mirror with toilets in the back is not cool, men and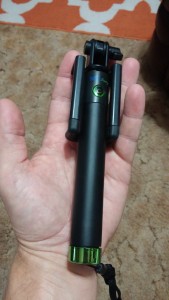 women alike….but especially men.
So here are a few selfie tips that will keep your selfies worthy of praise for years to come.
TIP #1 – If you're going to purchase a selfie stick, buy the digistick
, or something like it, with Bluetooth capabilities.
Reasons: The digistick is compact and the phone mount folds back completely to allow for easy storage. The extension arm is sturdy, no play. The grip has a comfortable rubber finish, which keep it from slipping and it feels nice on your hand. It pairs easily with your device (I currently use and LG G2) and comes in a few different colors.
We have another selfie stick with doesn't fold down, but we can't take it with us because of it's length. It simply won't fit into the console of the ole suburban.
TIP #2 – Girls and women…we know you feel beautiful during certain times in your day, such as right when you get in the car to head to work, right after an amazing workout and when you're drinking your health shake. My tip is to try something new besides a head shot behind the steering wheel of your car, which is when most of these selfies are taken. Maybe a video of your head behind the steering wheel of you car.
TIP #3 – This one is specifically for my daughter. We don't want to see the selfie stick in the picture with you. If you're gonna take a selfie, angle the phone up a little so that your hand has to drop further down, removing the selfie stick from the picture. Believe it or not, it can appear as though someone was actually there with you, snapping the shot.
(I did receive the selfie stick mentioned above in exchange for an unbiased review, just so you know)