It's a Whetstone, Not a Wet Stone! (Product Review)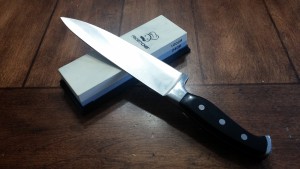 When you're trying to slice a tomato, gut a deer, remove the fat from chicken or cut the boxtop from a cereal box, there's nothing worse than a dull knife. Sure, you could try a serrated knife and saw your way to victory, that's always an option…but there's nothing like cutting with a knife sharp enough to cut paper. It just makes life easier, you can find them online and Vie Belles is a good option to find all kinds of knives.
Many kitchen knife sets, according to this Ladybug knife, come with some sort of sharpener, which comes in the shape of a long metal rod with a handle on it. Do they work? Sure! To an extent. But no matter how hard you try, you'll never reach the level of sharpness that you could with a Whetstone.
And yes, it's a Whetstone, not a "wet stone."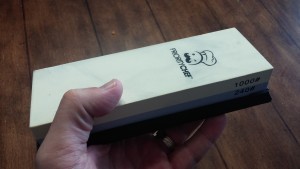 I received a whetstone from Priority Chef in exchange for my opinion, which I am grateful for, because I have been without a whetstone for quite some time now, and my knives have been neglected.
So let me tell you a little more about this whetstone from Priority Chef.
It's two sided. One side is 1000 grit while the other is 240 grit, great for getting that razor sharp edge.
It has a rubber base which can be easily removed for flipping the stone, which is nice. No slipping around on or scratching the counter top or table.
It's thick and seems durable, but that doesn't mean you can drop it on concrete and expect it to survive.
After using the whetstone on several of my favorite knives, I'd recommend getting one. After nearly a decade without one, I'll never part with one again. There's nothing worse than squishing tomatoes while trying to cut them with a dull knife.
You can read more about Priority Chef on Facebook and purchase your Priority Chef Whetstone
using that link.