Perfect Outdoor Bluetooth Speaker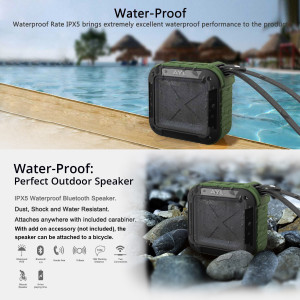 Most of the time when I'm out in the great wide open, listening to music isn't really what I want to be doing. With five kids, four of those being girls, there's enough music, singing and noise in my life as it is. Peace and quite is a valued commodity.
But that's just me.
On the flip side, there are times that I do enjoy some tunes while in the outdoors, and that's when I'm doing things that involve work and play…such as WORKing out, WORKing in the yard, WORKing on the car, WORKing in the shop and hanging out in the pool. The right kind of music makes things fun.
With that said, I received this cool little Bluetooth speaker from AYL SoundFit in exchange for my review. This is the perfect speaker for outdoor use. I could seriously throw this thing across my front yard without the least bit of concern that it wouldn't still work after doing so. It's built well.
Just a few reason why I feel it is a great outdoor bluetooth speaker:
It sounds good! It has just the right mixture of treble and bass, and loud enough to be heard over a bunch of kids in the pool.
It's small and compact! I can throw this thing just about anywhere due to it's small size without it being a burden.
As mentioned before, it's durable. Being totally encapsulated in rubber, plastic and a solid speaker grill, it can be abused and will keep on playing those tunes.
It's water resistant. I wouldn't take it to the depths of the pool, but it can withstand a little rain, splash from the pool or even hang out with you in the shower.
I currently own several Bluetooth speakers and this one sounds just as amazing, with twice the durability. Great product AYL!
You can pick up your AYL Bluetooth Speaker
on Amazon using that link.