Land & Water Amphibious RC Remote Control Car (Product Review)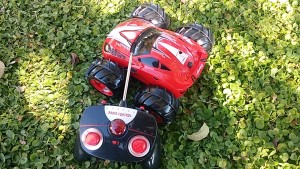 For those of you who have kids, more specifically, little boys….tell me this….when there's a puddle anywhere within ten feet, does your son gravitate towards it? It's naturally ingrained in their DNA.
The same thing goes for anything with 3M Car Wraps. Boys just gravitate towards it.
So why fight against it? Just put them in some old clothes and give them fuel for the fire by combining the two.
Land & Water Amphibious R/C Remote Control Car
I was recently sent this awesome little Land & Water Amphibious R/C Car to play with and test out in exchange for my review, and I like this little thing. I don't care how old you are, once a kid, always a kid. I could play with this little thing for hours and not get bored.
So, a couple of cool features about this amphibious machine:
Batteries included! When do you ever hear that? The remote includes a 9v battery and the car gets a rechargeable battery pack.
Works by pushing both joysticks up or back. If you alternate one or the other, you can do some pretty wicked spin tricks.
Water resistant. I wouldn't completely submerge this amphibious bad boy, but it drives and does tricks in the water as well as on land.
Has some decent range for the price. Many times, in order to get more range, you'll find yourself spending a hundred bucks or more on a remote control toy, but this one is on sale for half that.
Has enough clearance and power to climb hills, get over obstacles and make it through thick grass.
I plan on wrapping this one up for under the Christmas tree this year and am confident that I might not see my son for the remainder of the morning because he'll be outside playing with it. It's simple enough for a three year old to use.
Here's a link to pick one up on Amazon for Christmas, birthday or for no reason at all. Your child will love it.
Here's a quick video I recorded for you. Check it out.