Smart Weigh Heavy Duty Shipping and Postal Scale (Product Review)
If you're running a business from home which involves shipping products, you probably already know that your job can become, or already is, easier, and cheaper, by owning your own shipping scale. Instead of having to take all your packages into the post office to be weighed individually, you can do that all from the comfort of home. And if you use PayPal to process your orders, your job just got even easier.
I'll have to write an in depth article on how to charge shipping, create shipping labels and weighing products using PayPal in a different post. For this one, I'm just going to give you a review of a shipping scale I received in exchange for my opinion of it.
Smart Weigh Heavy Duty Shipping and Postal Scale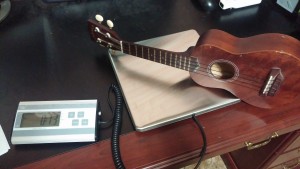 I ship all sorts of products such as large signs, growth charts, tee shirts and other random and odd shaped craft items, so having a shipping scale that is heavy duty and large enough to handle some of these items is a necessity. If you can relate, you might want to check out the Smart Weigh heavy duty shipping and postal scale. It's done the job I've needed it to do.
Here are some features to help you decide whether this scale is a fit for what you have going on in your shipping life!
The scale is made out of durable stainless steel and is approximately 10.5″ x 10.5″ x 0.5″ and weighs about 4.6 lbs.

Can handle weighing items or packages up to 440 lbs. / 200 kg.

This weight scale is equipped with a minimum readability of 2 oz. / 50 g.

Measures weight in kg / g / lb / lb:oz.
Has features to measure multiple items of the same weight (PCS Function) as well as products minus their packaging (Tare Weighing).
At a it's current price point, it's extremely affordable and due to its steel construction, it will probably last a while. It's worked well for us!
You can pick one up on Amazon HERE!