Firebird Noise Canceling Bluetooth Earbuds (Product Review)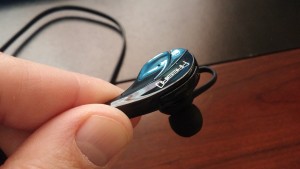 I am in love with all things Bluetooth, especially Bluetooth earbuds. Coming from a man who grew up in the age of the "Walkman," jamming LL Cool J on cassette with my wired, foam insulated headphones. The Walkman itself weighed almost enough to bring down my pants all on its own which made it kind of difficult to attach to a pair of thigh high shorts while trying to work out.
Fast forward to the "now," where I can slap on a pair of Bluetooth headphones or earbuds, set my phone or mp3 player down, and walk across the room without any music interruptions.
I love technology.
But not all tech is created equal, as in the case of Talon Bluetooth earbuds by Firebird Premium. Any electronic item that comes with a lifetime warranty has got to be quality.
Talon Bluetooth Earbuds by Firebird Premium
So what do you get when you purchase Talon Bluetooth headphones? You get the earbuds themselves, a charging cable, six differently sizes eargels and again, that lifetime warranty.
Here's a few features I like about Talon earbuds:
The sound is amazing. It has just the right amount of bass, treble and mid-range.
Noise cancellation. When I tested these earbuds, I was sitting in my upstairs living room where my kids were watching one of their teenage drama shows…and I could barely hear the TV.
The controls are all on the earbud and not on the chord.
You can take calls with them. I'll let the user manual explain the functions, but it's very easy to answer, hangup or skip calls.
The chord that extends from earbud to earbud is nice and lightweight. I've seen chords on other earbuds that are not very flexible and feel a bit annoying on your neck.
Has a 3 to 5 hour battery life to last through a few trips to the gym.
Overall, I really liked these bluetooth earbuds and plan on giving a pair to my three older children for Christmas presents or stocking stuffers. They're the perfect size for that.
Pick up your pair of Talon Earbuds on Amazon using that link and let me know what you think!