Three Ways to Keep a Close Eye on Your Children
In my opinion, privacy in a family is overrated. After you've had your children walk in on you for the twentieth time while you're in the shower, privacy can seem like a distant dream.
The same goes for your kids. As their parents, it's up to you to keep them in line and make sure they're making good choices. Until they're old enough to know of the consequences that follow bad choices, parents are tasked with the very, very difficult job of making sure they are making the right choices.
Some parents make the mistake of thinking that kids under the age of 18 can be completely independent, making their own choices in every aspect of life. I'm here to tell you, if you have adopted that way of thinking in your home, I encourage you to reconsider your methods. For example, many parents leave it up to their children to decide whether or not they'd like to go to church. To me, that's a decision I make for them, because I know it will only do them good.  That's almost the same as giving them the choice of going to school, brushing their teeth or going to the doctor.
If they are born as a boy, I give them trucks to play with, not Barbies. They don't get to decide whether or not they're a boy or a girl, that decision had been made before they existed in the world.
Anyway, enough of my rant….my point is, it's important to monitor the people, and things we hold dear to us in order to keep them safe.
Three Ways to Keep a Close Eye on Your Children
Regular Cell Phone Checks – If your child has a cell phone, more specifically, a smart phone, you should be conducting regular checks of their phone to make sure they're not being exposed to harmful media. Smart phones, which include the internet, can be such great tools, but can also be detrimental if used for anything unvirtuous.
Check their text messages, their social media accounts, email accounts and internet activity on a regular basis.
Make sure the settings on their browser are on safe search.
Set their social profiles to private.
Require them to leave their phone in a public area of your home at night.
Hold them accountable and let them know what to watch out for, avoid and what to expect from you.
Education is the best remedy.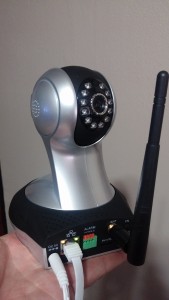 Home Security Camera – If you have an older daughter that can stay home and watch the other kids for you while you go on a date or run up town, sometimes it's nice to be able to see what's going on in the house.
Vimtag sent me an awesome IP camera in exchange for my honest opinion, and it's a perfect example of something you could use to monitor your kids while you're out. Think of installing a camera not to spy on your kids in secret, but to allow them to know that you are there and can see what's going on in case of an emergency.
Here are a few features of the Vimtag camera:
It's an IP/Network camera, so you can view the feed from your smart phone when you're away from the house.
Remote Pan and Tilt
Motion Detection
Snap Shot alerts
Clear Two-Way Voice with built in mic and speaker.
Infrared video up to 10 meters away
Easy setup and free smart phone app
3x digital zoom
Internal SD card slot for video recording
This is a very cool camera with several great features. Imagine being at a restaurant or at the hospital with a family member, wanting to check on your kids. Just open the app on your phone, rotate the camera to where you can see your kids, hit the microphone button on your screen and start speaking. You may scare your kids at first, but they'll get used to it, and you're mind will be at ease knowing that all is well. Plus, on top of that, you can monitor your home and belongings while out of town.
Here's a link to the camera on Amazon.
Be Involved – This is the most basic of all concepts and at the core for raising good kids, BE INVOLVED in their lives. Do whatever it takes to be a large or small part in the activities they choose to be involved in. If your child likes sports, be a coach, or at least an assistant coach of you're not well versed in sports. If they like to play the guitar, learn yourself and play with them. Print them out wholesome music to learn instead of leaving it up to the media to choose for them.
There's not better way to keep a close eye on your child than when you're with them.
In conclusion, I hope these are helpful suggestions for you. My family is my world and it's my job to protect these kids, and hopefully you take that job as serious as Amy and I do because they're the future.