Is Your Toddler Or Baby An Escape Artist? Catch It On Camera!
We've all seen the funny videos on AFV of toddler escape artists being caught on baby monitors pulling mission impossible moves to get out of their cribs. It's pretty amazing to see what your kids are doing while Mom and Dad aren't in the room.
Here's one of my favorite funny videos caught on camera using a baby monitor:
In different, more crucial moments, baby monitors can have a crucial part in saving or protecting a child from harms way. Other than being there in person, there's nothing more reassuring than being able to see and hear all that's going on in your little one's room.
Get Yourself a Baby Monitor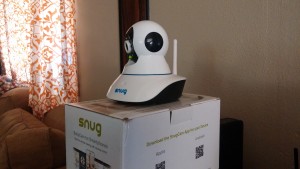 I was recently sent a baby monitor from Snug in exchange for my honest review, and I am digging this little camera. I've used it in so many ways in the past week or so. Of course the very first thing I did was freak my kids out while they were upstairs watching TV. Using the voice feature, I started talking to them…and it took them a little while to figure out where the voice was coming from and how I knew exactly what they were doing.
Good times!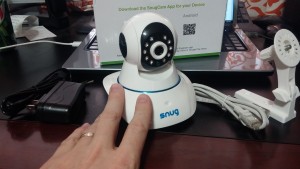 Just a few features about the BabyCam from Snug:
It takes less than 10 minutes from the time you open the box to set it up.
It can rotate 360 degrees and move up and down simply by swiping the phone screen.
The free SnugCam app allows you to monitor your home while you're out of town as long as you're on Wi-Fi, 3G or 4G.
It's very quite when rotating.
Has IR or Infrared LEDs for an awesome view of the room in complete darkness.
It's visually appealing and smaller than other baby monitors I've seen.
It's completely wireless once setup. It only needs to be plugged in.
Here's a link to the BabyCam from Snug on Amazon.
With that said, take proper precautions to ensure you're baby monitor isn't hacked by someone else. Make sure your Wi-Fi is password protected with the proper encryption. Second, you can also set a password for your Snug baby monitor to ensure a second level of security. When you don't want to use the camera, you can easily unplug it….and when you plug it back in, it's still setup.
Overall, I love having this little camera in my home. It sets my nerves at ease on those nights that I have a funny feeling about leaving my kids at home alone. Even though I completely trust my daughters as babysitters, I don't trust others in the world that seek to prey on the innocent.