Summer is Approaching Fast! Time to Shop for Poolside Gear
With Spring and Summer on the approach, it might not be a bad idea to begin your swimming pool construction and do a poolside shopping, especially if you live in Arizona or somewhere in the south. Looking for a reliable pool builder? An expert team of pool builder like Couvillionslandscapes services has the skilled and experience to build it for you. There's nothing like hitting the pool for the first time at the beginning of a new swimming season.
Of course, having a hot tub beside your pool would be the best idea. Aside from that, I've made a list of some of the things I feel a pool, or poolside needs in order to have optimal awesomeness.
Home Poolside Gear and Convenience Ideas
Poolside gear is almost as important as the water in the pool which you might want to keep clean using green pool cleaners. Kids are constantly getting in and out of the water because they're cold, hungry, or they need to go potty. So having the necessities near the pool makes things more convenient and fun for everyone involved. I definitely don't enjoy making trips into the house for one thing or the other.
So here are some poolside gear ideas for you to consider adding to your swimming pool experience.
Music – Having the right music for the right age group adds quite a bit of fun the the fun-o-meter. From experience, I've learned that when you play music kids enjoy, there's less fighting and more cooperation between kids, especially siblings. I guess you could say that the music takes their minds off the small things and allows them to have fund.
With that said, I prefer bluetooth, or wireless speakers using either an MP3 player or Pandora. And since we're poolside, it would be ideal to find something that's water resistant. You never know when a cannon ball will bring an unexpected splash.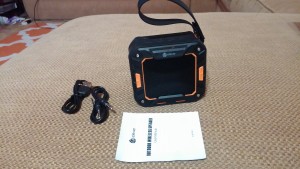 As an example, this iClever Bluetooth speaker is what we use poolside and is specifically made for the outdoors. If you knock it off the table or arm of your chair, accidentally splash it with water, chuck it across the deck to a friend or family member….no worries. It's build solid and can take a licking…..besides the fact that it also sounds amazing. I actually received this one in exchange for my honest opinion of it, and it's hard to find anything negative about something that is as nice as this speaker.
Frozen Popsicles – I don't care where your from, all kids, and I mean ALL kids love frozen popsicles, such Otter Pops. These should be a trademarked poolside accessory, because they are here in Arizona.
Shade – If you're like Amy and I, we have a bunch of kids. Well, just five…but to some, that's a lot. We can't exactly leave the kids out at the pool by themselves and we're not always wanting to swim with the kids. So naturally, without shade, it makes for a miserable hour or two without a little but of shade.
Currently we have a shade umbrella providing shade and a few triangular shade clothes suspended over the pool and deck area. One of the shade triangles provides a little shade over the pool for those times when Amy is teaching swim lessons or you simply want to hand out in the water without applying sun screen.
Towel Rack with Hooks – When swim time comes to an end, there's nothing more annoying than seeing wet towels on the bathroom floor. A simple towel rack next to the pool, near the back entrance to your home or in your pool house is a perfect addition to any pool.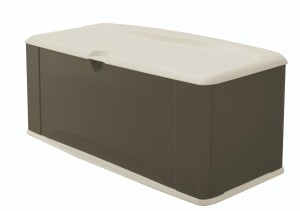 Storage Bench – We all know how many pool toys we can accumulate, like floaties, rafts, mermaid tails, goggles, squirt guns, noodles and anything else you can think of. To keep it from getting out of control, get yourself a nice storage bin that could double as a bench.
Pool Cover – Taking care of an outdoor pool on your own can be difficult and time consuming. According to Solid Structures, your job becomes a whole lot easier if you have a pool covering that will keep out debris and dirt. And of course, if it covers and uncovers at the push of a button, even better.
Bathroom – This may be quite obvious, but it sure does help to have a bathroom within 20 feet of the pool. Kids naturally don't ever want to get out of a pool, much less to use the bathroom. So if you find yourself with a "peeing in the pool" problem, you might consider making arrangements to have a toilet closer to the pool. During swim lessons, we rent a port-a-potty and place it close enough to get to quickly but far enough away to keep the smell out of the fun.
If you have any ideas of your own regarding "must have's" for the poolside, we'd love to hear about it. And, most importantly, don't forget to have a pool inspection first before dipping into the pool.