Store Front Design Tips for Enticing Customers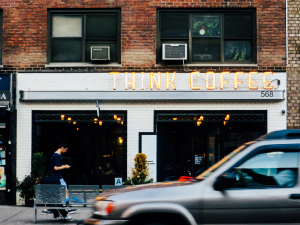 Making your store stand out on busy crowded streets is hard, but necessary. You must convince customers to choose your store over potentially dozens of similar ones, all in a quick glance.
In a survey commissioned by FedEx, results showed that 76% of people said they had entered a store they'd never been in before based on its signage. Therefore, putting up an amazing storefront is imperative for drawing people in off the street, whatever kind of business you run. You can also use doors from Select Door Service – High speed doors for security.
If you're setting up shop or redesigning your store front, make sure you take these tips on board before you unveil your store to the world.
Know Your Rivals
If your store is sandwiched between two others with drab dreary frontage, yours needs to be better. If there is a lot of dark-colored fronts on your street, make yours bright and attention-grabbing.
Even if the street your store is located on is full of impressive fronts, you should take note of what they're doing well and think about how to one-up them.
It's All in the Sign
Especially if there are no other illuminated signs on your street… Get one, now! Brighten up your street and contact a reputable signage company for professional looking LED signs built to your specification. You could alternatively go for retro neon or futuristic digital.
However you do it, commission a professional sign writer who can design you a unique, effective store header, and check out the portfolio of your chosen sign company to see if their work fits your standards and get some ideas.
Clean & Flashy
Of course, your store front must be sparkly, gleaming clean at all times – nobody wants to go in a grubby store. If the inside is immaculate, the outside needs to reflect this. A brilliant way to ensure your store front looks amazing while being easy to clean is to tile it. Choose ceramic tiles in a stand-out color, maybe in subway tile formation. This is eye-catching, different, chic, and easily wipeable! (Keep a few extra tiles on hand in case some go missing; patchy tiling is not a good look.)
Another interesting idea is to remove any cladding or covering that has been added to the building to see if there are any historic details underneath that could draw attention and add character to your store. Utilize these, don't cover them.
Do Trend Research
Making your business look cool and current is integral to attracting a prime audience. Look into current trends and figure out how to translate them into effective signs and frontage.
For instance, clean minimalism is now all the rage across the world. This works great for exteriors and interiors of cafes, bars, clothing boutiques, and much more. There isn't any kind of store that wouldn't benefit from this adaptable trend.
Light up the Street
As we said, illuminated signage is very effective and immediately draws the eye, especially when used among non-lit signs. Don't just stop at signs though: put lights in your window displays and make your shop look bright and inviting.
Use tasteful, neutrally colored string lights in the window; place lamps on prominent display; and always make sure your doorway is well-lit. This firstly means that people can see you, and secondly that they feel welcomed as soon as they enter.
Do Something Unexpected
On a street of regular store fronts and boring displays… Do something that people don't expect to see. Use your imagination: putting up something fun, if it's artfully executed, isn't going to put people off coming into your shop – quite the opposite!
Put up a large decal in the window. Paint your doors a very bright color. Use some unique lighting. Have regularly-changing and eye-catching window displays. (But not all at once. Less is more.) Do whatever makes you stand out and makes people happy to look at – that's how you'll attract new customers.