Here's How You Can Move on a Shoestring Budget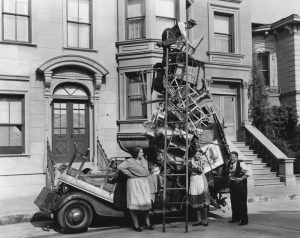 Are you interested in moving, but not sure that you can afford to? Relocating is undeniably an expensive process. First you have to find a home that fits into your budget, then you'll need to cover the cost of moving, and finally, you'll need to get settled in. Though there is a lot to get done and several things you'll need to have money for, moving on a tight budget isn't impossible. Below, are a few tips on how to find a place, move, and get settled in without breaking the bank.
Save on Finding a Home
Before you can relocate you need to have a place to stay. When trying to factor housing into your budget, it is recommended that it cost no more than 30 percent of your income. As you search for your new place, keep these money-saving tips in mind:
Do some research to determine which areas are the most affordable to live in.
Instead of taking on the financial responsibility of homeownership, consider renting a place. You'll save on the cost of maintenance and repairs and some rental properties even include convenient amenities like laundry facilities, gyms, pools, and more.
If you'd prefer to buy a house, shop around for the best rates and terms on mortgages. There is a lot of government assisted mortgage options that can eliminate the need for closing costs or a sizable down payment.
When shopping for a home to buy or rent, there's no need to hire a real estate agent. There are several platforms you can use online to begin searching for houses on your own.
Save Money on the Move
Once you've found a place to stay, you're ready to begin planning your move. Here are some ways to slash the prices of relocating:
Compare quotes to determine which company offers the best rate to help you move. Moving companies like Allied Van Lines offer online estimates on what it would cost to help you move. Be sure to look at what's included in that price before making a decision. Sometimes it's best to go with a company that pays a bit more if their services are better, or if additional services are included in the quote.
Pack on your own. Though it might be tempting to hire professional movers to come pack everything up for you, it can get expensive. Many companies, like aswiftmove.com, have tips, tricks and even checklists to help you along. Roll up your sleeves and start packing yourself.
Don't pay for moving boxes. There are too many locations you can go to get free moving boxes. You can check classifieds like Craigslist or you can look near the dumpsters of liquor stores, restaurants, and grocery stores. If you happen to work in an office, copy paper boxes work well.
Purchase moving insurance. If offered insurance from your chosen moving company it is a good idea to take it. Although the movers try to do their best, accidents do happen. The cost of replacing damaged items can really blow your budget.
Save on Settling In
Moving day was likely hectic, but you're finally in your new home. All that's left to do is unpack and settle in. As your budget will need to bounce back from the dent housing and moving put on it, here are some tips for saving in your new house or apartment:
Bundle your entertainment services. You can get a better deal if you find a provider that offers internet, phone, and cable for one monthly rate.
Hold off on buying new furniture. As tempting as it might be to hop on your computer and begin clicking on every piece of furniture and home decor item you see online, now's probably not the time. Hold off on buying anything new and instead try to re-purpose some items you bought from the old place.
Purchase insurance.  Whether you decided to rent a home or buy one you'll need property insurance in place. This will help to protect you financially in the event that your home or rental property is damaged by natural disasters, vandalism, or burglaries.
Moving is going to cost you money no matter how you slice it. To prevent yourself from going bankrupt just to relocate it is a good idea to create a budget and stick to it. The above tips on how to save money finding a place, moving, and getting settled in should certainly be a great help as well.