Landscaping Made Easy: Simplifying the Garden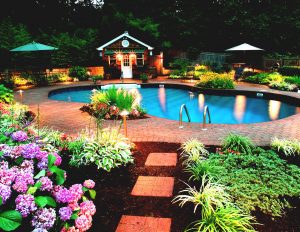 You may not have a green thumb, but your property has an extensive yard. It must be filled in with some plant life. Don't worry about your landscaping. In reality, the garden can be as simple or complex as you desire. Explore some of the basic ideas that will beautify the home without taking too much effort on your part.
Planting for Green Interest
If you're not a big fan of mowing the lawn or keeping up with herb gardens, select plants that require little maintenance. A variegated ginger plant offers a mounded shape of greenery, which doesn't require pruning. The foliage isn't just green either. Golden stripes decorate the leaves. This feature accents other greenery in your garden too.
Add mounding plants to yard corners and along pathways. Ideally, select plants that are hardy for your region. Native plants thrive in local conditions, which makes their care easier on your schedule. Local rains feed the plants as you enjoy the yard instead of tending to it.
Tossing in the Bulbs
A distinct feature that brings color to your garden is bulbs. Daffodils, dahlias, freesias and other bulb plants spring up every year. There are literally bulbs for every season of the year, excluding winter in most cases. Bury the bulbs in random locations across your yard. Local nurseries sell tools that make this task an easy one to complete.
Simply water the bulbs off and on throughout the year. They'll grow, flower and die back with regular frequency. Although some bulbs might take a year off, most plants grow without fail so that flowers are always decorating the area.
Trying Container Gardens
You might be happy with your grassy yard and blossoming trees, but it doesn't have much character. Calling for the tree cutting service, don't cut into your lawn that may be growing in good health. Add color by container gardening. Select several pots in various sizes. Plant annuals or perennials in these containers. Place them around the yard for visual appeal.
These pops of color give the yard a personalized appearance. Remember to water the containers more often than your ground-based plants. Evaporation occurs faster in pots because of their lack of insulation.
Take advantage of the gardeners' knowledge at the local nursery. Ask questions about the plants that are on sale. The workers might have a simple answer to your query. Landscaping your yard should be an enjoyable task that brings value to the property.