Interior Design DIY Ideas with Custom Elements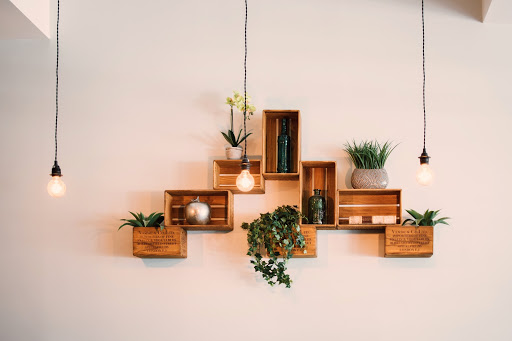 It can be challenging to find a balance between keeping up with the latest design trends, sticking to a budget, and putting your own unique twist on the design.
With some strong DIY skills and a creative eye, you can create professional looking interior design arrangements without breaking the bank. Here are some of the best interior design DIY ideas with custom elements.
In-House Art Gallery
Gallery walls with family photos artfully arranged became a favored interior design trend for those looking to fill a large open space on the wall. While it's a trend that's been done and done again, adding a unique twist on this tired trend can create an entirely unique spin on an old classic.
Create an in-house art gallery, by curating prints of your favorite paintings, recreating work in the style of your favorite artists, or having your favorite photos turned into art with Instapainting. Arrange them in the traditional gallery wall collage or set them up on a more formal display, with targeted lighting. This look is also great for small alcoves and dark hallways.
Replace Side Tables and Shelves with Mounted Crates
Swapping out nightstands and side tables with crates mounted to the wall not only looks fantastic, but it also works well for homes that have limited space. Choose a crate that fits your needs and mount it to the wall accordingly. You can even use a series of mounted crates to create shelving for book storage or accent piece displays.
For a modern look, paint your crates white and apply a high gloss finish. For a more rustic look, stain the crates to bring out the natural wood elements. You can even add a faux winery stamp to create a vintage, thrifty look.
Install Hallway Signs
For those who like old-world style interior design elements, installing hallways signs can bring the feeling of walking down a cobblestone path in Europe into your home. Purchase some decorative wall brackets and paint them in the color of your choosing. Mount them over the doors you wish to label and adhere a custom-made wooden sign for a look that your visitors will love.
This interior design element is great for those who rent out their property on Airbnb to help people navigate where they should and should not be going. Kids will especially love this design feature for over their bedroom door.
Create an Accent Wall
Why paint everywhere when you can dress up one wall and change the look of an entire room? There are many DIY ways to create an accent wall. Use paint to stencil designs onto a wall, ranging from elaborate baroque elements to simple, minimalist crosses or arrows. Bring the outdoors in with a stone wall or using shiplap to create a beach house feel year round.
If you're looking for a quick change, forget the fancy designs and go for a simple different colored wall that contrasts your current decor. Add in a few complementary accent pieces– painting thrift store finds creates an elegant, designer-inspired look– to change the atmosphere of the room with minimal effort. 
Upgrade the Lighting
You can refresh your lighting without purchasing all new fixtures with a few tools, paint, glue, and unique elements. Replace old fixtures with DIY modern versions or refresh out-of-date brass with a fresh coat of vintage-inspired spray paint. Go completely modern with a DIY feather pendant light that will look like it cost thousands. 
Thrift shops are a great place to source lamps and light fixtures that can be upcycled into something beautiful with a new lampshade. Get creative and step outside of the box.
The possibilities are endless when it comes to DIY interior design upgrades and projects. Let your personality shine through and create timeless pieces that will make your house a home.