5 Garage Conversion Ideas to Make the Most of Your Space
If the coronavirus pandemic has given you a lot of free time, then perhaps you are finally able to get some of those projects done that you've been meaning to get around to. One thing that many people never get around to doing is clearing out their garage and having a garage door repair. If you need a garage door repair before you start the remodel make sure you click here to learn about Garage Door Repair Boise. You may also consider installing a new residential garage door which will add value to your home.
A garage can easily become a dumping ground for everything that doesn't really have a place. You say it's just temporary, and you'll come back and sort it out later, but later never comes. Well, perhaps now is the time to do it. If you don't need your garage for your car and you don't want it as a dumping ground, then maybe you should use the space more wisely and make it into something that is more of an extension for your home. If you would like to add a garage to your property, you can find more information on Midwest Garage Builders here. 
Here are five ideas of what you can turn your garage space into and make it amazing: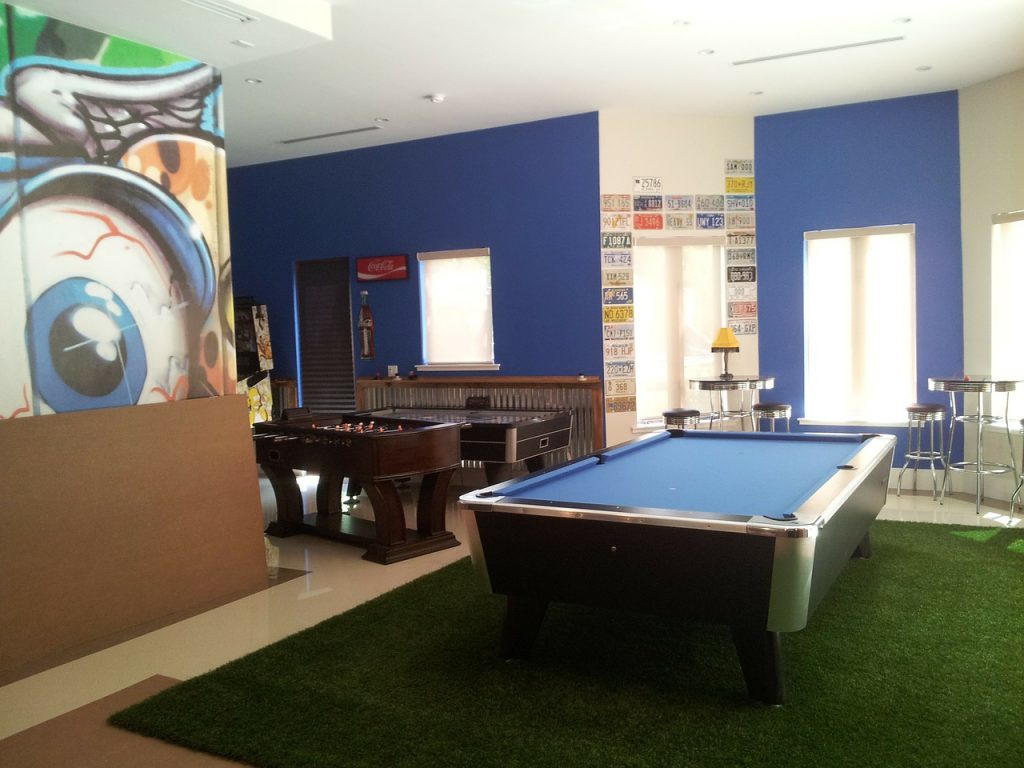 A Home Office
You can use your garage to make your family home more practical, and by turning it into a home office, this is a great way to do that. If you ever work from home, having a different room to go into is essential, and converting your garage can make you feel like you're away from home without actually having to be away from home. It can provide you with a quiet space and also means that your family can have the TV on without bothering you while you work. To make it an effective workspace, you'll want to have plenty of natural daylight but also invest in some decent residential garage doors to make it more secure. 
A Games Room
A garage space is a perfect size for a pool table, table football or some beanbags and a Playstation. If you have teenagers, then turning this space into somewhere for them to hang out, play games, and make as much noise as they want is great for keeping them out of your hair, but you'll know they're still safe and not far away. 
A Playroom
Alternatively, if you have younger children, then a garage conversion into a playroom could be a very good idea. This can be relatively easy to do, you'll need some soft flooring, plenty of storage and toys, but one thing you'll have to keep in mind is that your kids grow up quickly, so this room needs to be adaptable so that you can change with them as they change and don't build anything that is going to be difficult to remove or takedown. You can also use this space to display your personal collectibles like a One Piece Figurine.
A Spare Room
A garage can be a great place to have a spare room. Again it will need to be well insulated and done properly, but if you have enough room you can add an ensuite bathroom in there and even a small kitchen area so that when you have guests to stay you can give them their own space but at the same time make them feel at home. You may find that you have to call out the carpet cleaning company more often to take care of matters in this room due to its proximity to the outdoors. You will also find that it's entirely worth it to benefit from an additional and stylish space that will add to the value of your home.
A home gym
A garage conversion is ideal for a home gym; it will need to be fitted with air conditioning or a window that can be opened to keep it fresh, but as long as you have that sorted, you can do whatever else you want. Add a flatscreen TV and mirrors to make it feel like a real gym, and devote the back of the room to a shower space. If you plan on charging people so they can use your home gym, then you may want to consider speaking with a Fitness Center Consultant.
No matter what the new purpose of your garage is, you can make it more functional and look more appealing when you invest in garage floor coating. You may also need to install air conditioners in the garage make it more comfortable.