Marketing Ideas for Your Home Based Business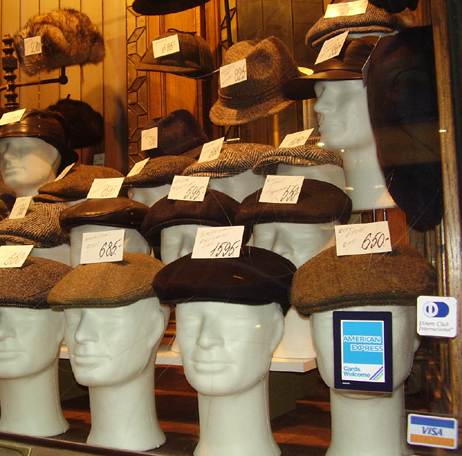 This is one of my ALL Time Favorite subjects.  I have owned a few of my own traditional businesses before owning our Home Based Business and with both, Marketing is key to generating a good income.
Let's imagine for a bit, if you owned your very own Hat Store.  I know, an exciting venture for sure!!  You did your research with help from business coaching programs and found a terrific location, which is sure to bring in tons of foot traffic.  You've carefully purchased and displayed some of the most popular and unique hat selections anyone has ever seen.  You've arranged your store in a perfect fashion as to appeal to almost everyone.  You've selected special music to play over the speaker system.  Music that says, "Come in and buy, buy, buy."  You've also placed soft, comfortable seating throughout your store and mirrors everywhere, ensuring your future customers the most amazing views from any angle.  You are 100% sure, that any customer who walks into your store, will walk out with an amazing hat that suits their personality and vibe perfectly, and that they will come back time and again, and most likely with their friends.  READ MORE BELOW
The Grand Opening is here.  You sit back waiting for your first customers and to your surprise not one person comes in.  Sadly you are disappointed, but ready for day 2.  On that day, one person does come in, but unfortunately they were looking for the hand bag store next door, so you directed them there.  Again, not a great day.  On your third day, no one comes in and you are really starting to get discouraged.  So you walk outside and take a look at your store, considering that maybe something is possibly wrong.  As you walk outside, you realize, you have overlooked a crucial part of starting a new business…THE MARKETING.  You haven't ordered or placed a sign outside letting passer-bys know what lies within the store.  You haven't made an eye-catching window display.  And to top it off, you didn't have a "Grand Opening," or even advertise that there was a new Hat Store in town. If you want some ideas to boost your business, find the links here on vrum-editorial.com which will help you remain visible in internet
Now obviously, this is just an example.  But the truth is still the same.  Most great home based businesses, require a good web-site, which is like a store front.  And you've got to market that site, just as you would market your Hat Store.
So… I wanted to post a few marketing ideas from James Hopkins Coaching for you to utilize to draw more traffic to your business, opportunity, service, or merchandise.   YOU'VE JUST STRUCK GOLD!!  Here It Is!!
Here are a few others that have drawn our attention; Sticky Notes (you can print on them), Water Bottles (donate to schools), Sponsorship of a team with your store name or website, T-Shirts and Hats, Theater Classifieds, Writing Pens (donate to local businesses), Magnets, Bumper Stickers (Give one to all friends and family who are willing to advertise for you), Vinyl Lettering on your Car, a Website, Craigslist or any other free online advertising sites, Social Media Marketing like Facebook and Twitter,  Blogging,   Parades (hand out something great like candy, water bottles, or otter pops with your advertisement on them.
If you work in a beauty salon hand out mirrors, combs, or fingernail files with your Salon Name on them), return Address Labels, E-Mail Signatures (go to settings, put your name, business, contact info, and your advertisement with possible linkage to your website so every time you send out any e-mail to anyone, your info will be right there), Chamber of Commerce Involvement, You Tube, Matchbooks, Coasters, Bookmarks in Books at the Bookstores, Donate Free Items in the Name of Your Business, Volunteer in the Name of Your Business, Random Acts of Kindness done in the Name of Your Business, Restaurant Fish-Bowl (which is "win a free meal-put your business card in" and then you have tons of contacts to approach about your business),  have a Grand Opening Event or Kick Off Party, Give % Discounts to New Customers, and you can Give Free Food Away (hot-dogs or Pizza etc.). However it is important to remember that according to these posts about seo for insurance agents, the most important thing is to be creative, and remember. 
To name a few obvious ideas; Newspapers, Radio Stations, Fliers, Bandit Signs, Business Cards, and Billboards. Find the best digital marketing agency near you here. You might also want to add advertisement videos; for more information learn more here.
"No one knows you have Hats for sale, unless you advertise that you have Hats for sale."
Happy Advertising and Marketing!!!