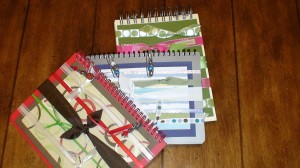 This is a really great journal/notebook idea.  Tonight I made these with a few 8 and 9 year old girls.  They loved it and enjoyed being creative with their choice of ribbon and scrap paper.  I believe they all turned out really adorable.  These can be fabulous gifts for a new neighbor, birthdays, Christmas, or even as a thank you gift!  To make these, we used a spiral bound note pad, scrap paper, glue, ribbons, a few charms and beads.
Here are a few examples of the ones we made…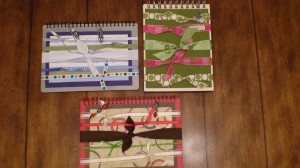 This picture is of three different styles! Notice the spiral part can be on the top or the side.  Some have beads hanging from the spiral portion with craft wire, safety pins, or paper clips.  Being creative is the key and just about anything works!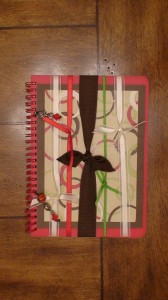 This journal/notebook is red with a dark brown scrap paper, topped with a patterned paper and then embellished with cream, brown, green, and red ribbon.  The beads are red and silver hung from craft wire!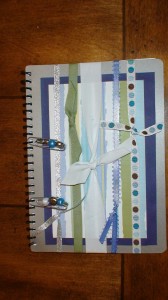 This notebook was grey, we added a dark blue piece of scrap card stock, then a piece of patterned paper.  The ribbons are silver, sage green, white, blue, and a polka dot.  The beads are silver, blue, and white, hung from paper-clips.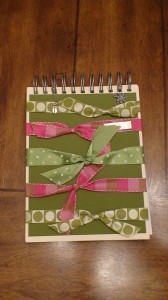 This is one of my favorites and it is particularly because of the color choices.  The pink with the green really make it POP!  A solid green card stock was used and then embellished with various pink and green ribbons.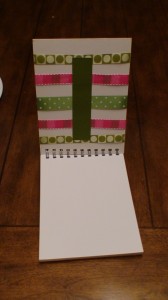 I wanted to give you idea of what the inside of the book looks like.  Because the ribbon is slippery, it has a tendency to bunch or move up and down.  So, my solution was to glue a strip of the card stock inside the cover, overlapping the ribbon.  This insures the ribbon stays in its' proper placement.
HAVE FUN WITH THIS ONE!!