Make Your Own Fabulous Rings
I love this Good Idea from Michaels.? It's all about making your own fabulous rings with stackable buttons and wire!!? See the complete post of Button Rings HERE.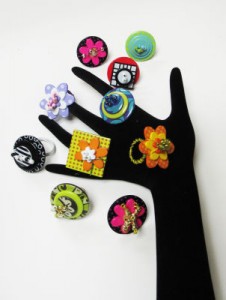 Material List
Loops & Threads? Stackable Buttons (your choice of style and color)
Fun Wire
Wire Cutters
Project Instructions
Cut 14-inches length of wire.
Leaving a 3-inch tail, wrap wire loosely around finger three times, forming the ring. Wrap wire ends together once.
Tightly wrap one end of wire around the ring three times. Repeat with other end.
Thread wire through buttonholes.
String glass beads on wires. Twist wire to desired shape. Thread wire down through buttonhole, wrapping between button and ring.
Trim excess wire.
***TIPS***Decorate rings creatively. Hold two colors of wire together when forming the ring. Wrap second color around top of ring. Loosely wrap around ring, wrapping around top of ring when finished. Add loops of beads at top.