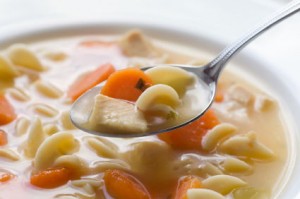 With the weather cooling down, I thought it would be a good idea to have a cup of soup!  This pot of mush, probably doesn't look very enticing, but OOOOHHHH it is!  I got this recipe for "Hearty Chicken Soup" from a friend and my little family ate it all up and asked for seconds…
(that's always a good sign!)
Recipe is as follows….
Saute (use butter or margarine) –
1 onion chopped
2 cups chopped carrots
2 cups chopped Celery
(Add this Saute mixture to the mixture below)
Boil 2 chicken breast and cube
(save 3 cups of the broth after straining out all the yucky stuff and put back into pot)
ADD
1 can of evaporated milk
1 can of corn
1 peeled-cooked and cubed potato
1 can of cream of chicken soup
salt and pepper to taste
Cook about 4 cups of noodles and add to above mixture.
Add milk if you want to thin it a bit, but we like ours chunky/hearty!
Simmer for a little so the flavors blend together, but make sure to keep it from boiling………..ANYWAYS…ENJOY!